Read about our pricing and services
List Price:
$16.00
Price
Quantity
$12.80
1-24
$11.20
25-99
$10.40
100-499
$10.08
500+

Bulk discounts are non-returnable.
Customize It
Paperback
275 pages
ISBN 9781594481710 Published March 2006
Riverhead Books
See all formats
Tweet
Whole New Mind
Why Right-Brainers Will Rule the Future
Related Blog Posts
Jack Covert Selects - Borrowed Brilliance
Posted Sept. 14, 2009 7:23 a.m. by 800-ceo-read
Borrowing Brilliance: The Six Steps to Business Innovation by Building on the Ideas of Others by David Kord Murray, Gotham Books, $26.00 Hardcover, 304 Pages, September 2009, ISBN 9781592404780
You may have heard the cynical expression "There are no new ideas." Well, David Kord Murray wouldn't necessarily disagree with that sentiment, but he would argue that it isn't such a bad thing either. In Borrowing Brilliance, he tells us that when Isaac Newton was accused of stealing the creation of calculus, Newton defended himself by saying, "Yes, in order to see farther, I have stood on the shoulders of giants."
For a more contemporary example, Murray tells the following story:
Bill Gates had pulled off the business deal of the century. IBM would sell millions of PCs, each running MS-DOS, and each triggering a royalty check to Microsoft. Others would copy, or clone, IBM's machine and they, too, would turn to Gates for his borrowed operating system … Gates had borrowed the code from Seattle Computer, which had borrowed it from Digital Research, and used it as a beachhead into the desktops of millions of computers, brilliantly solving the problem he had identified … The business deal of the century had made him the richest man in the world and for us is the perfect example of what I mean by the term borrowed brilliance.
Murray's many intriguing examples also include the Google guys creating their Empire by using existing search engines to discover a pattern in the results that allowed them to ultimately create the algorithm that became the keystone to the Google search engine and Alexander Fleming's discovery of penicillin based on the work of many other scientists. The glue that supports Murray's theory and holds your interest throughout is these wide-ranging and well-told stories.
In Dan Pink's great book, A Whole New Mind, he suggests that the primary worker in this new economy is the creative worker. And, to survive the innovation wave that is coming, the creative worker needs to become the creator of ideas—not just the manager of them. In Borrowing Brilliance, Murray demonstrates that these ideas can and should be inspired by the ideas of others, and lays out the tools you need to build on them.
---
Tweet-a-tweet-Tweet Recap
Posted May 2009 9:05 a.m. by todd-sattersten
In
Publishing Industry
-
800 CEO Read Blog
We posted quite a bit over on twitter this week. We tried pulling together what we saw people saying about business books, recommendations for business books and some ideas around the future of publishing at large. Here is the what we found:
# Authors 4 #followfriday @gladwell @stevenbJohnson @danielpink @alanmwebber @jack_welch @suzywelch @johncmaxwell @tonyrobbins @Rich_Dad about 4 hours ago from web
# RT @TalentAcquisit The Art of War by Sun Tzu is 1 of the best business strategy books. For business strategy check out http://www.sonshi.com 9:18 PM Apr 29th from web
# RT @charlesseybold Books: finished Predictably Irrational (****), starting Art of Profitability (v good so far), biz novel like The Goal 1:52 PM Apr 29th from web
# @kennypratt yes, here is the mystery box url: http://800ceoread.com/mysterybox 10:04 PM Apr 28th from web
# RT @tomewing:The Cluetrain Manifesto is the Velvet Underground of biz books: everyone who read it formed a dodgy start-up. (via @ricklevine) 3:57 PM Apr 28th from web
# RT @mdrips Escape from Cubicle Nation is ok; Think Big Manifesto totally sucks; Me 2.0 is mediocre. Few biz books are worthwhile. 3:56 PM Apr 28th from web
# RT @robbiebax @BtoBGuru great non-social media biz books 2008 "forces for Good" "back of the napkin" "predictably irrational"--loved em all! 3:02 PM Apr 28th from web
# RT @whgtoga Cool book ! One of the top 100 biz books of all time. (CEO READ) The Story Factor- Annette Simmons. 2:57 PM Apr 28th from web
# Great to see @jack_welch joining Twitternation today.2:38 PM Apr 28th from web
# oops RT @sarahcannon Finished reading Tribes over wkend, halfway thru The Tipping Point this wk. Both read too easily to be biz books...2:35 PM Apr 28th from web
# @sarahcannon Finished reading Tribes over wkend, halfway thru The Tipping Point this wk. Both read too easily to be biz books...2:35 PM Apr 28th from web
# Looking for what business books to read? Check out our 377 reviews - http://800ceoread.com/blog/... 3:52 PM Apr 27th from web
# RT @Techmeme Amazon Acquires Stanza, an E-book Application for the iPhone (Brad Stone/Bits) http://bit.ly/JkHFz (via @debbiestier)3:42 PM Apr 27th from web
# RT @sharif28 Just kick-started my daily reading regimen by ordering 3 new books: Tribes, Business Stripped Bare and the Think Big Manifesto.3:33 PM Apr 27th from web
# RT @LauraJDaley My two favorite biz books are Primal Leadership & A Whole New Mind. 12:00 PM Apr 26th from web
# You can follow Nancy at @nancyduarte.12:00 PM Apr 26th from web
# Nancy Duarte on passion and purpose - http://bit.ly/JFNAX The Element, Outliers, and Talent Is Overrated all intersect here. 11:58 AM Apr 26th from web
# RT @chinasolved Pirated biz-books now @ my sbwy sta. Saw 'Black Swan' 'Essential Drucker" & 'Outliers' for 10 rbm each. 10:51 AM Apr 26th from web
# RT @fredwilson: Kenny Lerer is co-founder of HuffPo & here's his thoughts on newspapers http://bit.ly/v8Z0y
You can follow us at @800ceoread or jump over to our twitter page.
---
Jack Covert Selects - Here Comes Everybody
Posted April 13, 2009 7:19 a.m. by 800-ceo-read
Here Comes Everybody: The Power of Organizing Without Organizations by Clay Shirky, Penguin Books, 344 pages, $16.00, Paperback, February 2009, ISBN 9780143114949
Everyone seems to have a vague idea of what sociology is. But a high school history class, or the course you took in college to cover some elective requirement, is about as far as we usually get in that understanding. In business, we should care more about this area of study, as this is the realm of science that deals with how groups behave. Teams, firms, and even customers all fall into this realm.
Clay Shirky's Here Comes Everybody is a big-think book along the lines of Dan Pink's A Whole New Mind and Dan Ariely's Predictably Irrational. But, where Pink and Ariely deal with individuals, Shirky writes about the collective. The thrust of the Brooklyn-based consultant and professor's argument is that our focus on technology itself is misplaced, and what we should be paying closer attention to are the new behaviors society adopts as the result of technology. "[S]ocial tools don't create collective action—they merely remove the obstacles to it," Shirky writes.
Shirky shows how many popular business concepts of the last several years have roots in sociology. The Long Tail, the description author Chris Anderson used to shape his idea of power law distributions, is usually formed by systems where things interact with each other. Many social phenomenons, ranging from population of cities to popularity of music tracks on iTunes and changes on Wikipedia pages, follow the same quickly sloping curve from popularity to obscurity.
You may have heard of "flash mobs" forming at random in train stations, hotels and city parks. The tasks they take to are harmless, like freezing in place at a given time or dancing to some unheard soundtrack. These groups can form quickly and with little more than a text message—a great example of the speed technology can bring to the coordination of groups. As Shirky writes, "Whenever you improve a group's ability to communicate internally, you change the things it is capable of." Protesters in Belarus have used these exact techniques to oppose their repressive government. Flash mobs have formed to read books on the steps of the that country's Supreme Court and eat ice cream in Oktyabrskaya Square—harmless activities for which people are still arrested, and allow organizers to document the suppression and treatment of citizens.
These may sound like weighty topics for a business book, but they are exactly the issues leaders are going to be struggling with, or taking advantage of, as technology changes our social behaviors. Technology allows more loosely formed groups to accomplish more complicated tasks to greater effect, whether sharing tips for hacking new features on iPhones or staging boycotts after complaints go unaddressed. The rules are changing and, as Shirky says, "What the group does with that power is a separate question."
---
Dan Pink interviewed by Oprah
Posted Feb. 17, 2009 6:59 a.m. by tom-ehrenfeld
In
Personal Development
-
800 CEO Read Blog
In case you missed it, here is Oprah's interview with Dan Pink, featured in the December 2008 issue of O, The Oprah Magazine. Oprah interviewed Dan about "how right-brain thinkers are wired for 21st-century success," a concept from his groundbreaking book A Whole New Mind.
Dan Pink is also the author of Free Agent Nation, The Adventures of Johnny Bunko, and the forthcoming DRIVE: The Surprising Truth About Human Motivation and How It Can Change Your Life (out in December '09).
Read the entire interview on oprah.com.
Here's a snippet from the dialogue:
Oprah: Let's talk about a right-brain ability you think we should all develop.
Daniel: I'd say "design." Design is the ability to create something that has significance as well as usefulness. Even hospitals are bringing in designers to redo waiting rooms. A young designer in New York re-created the prescription bottle because she noticed that her grandparents were getting their medications confused. She put the medicine's name in large type at the top instead of the doctor's name, and Grandpa gets a green band on his medicine bottle and Grandma gets a yellow band so they can see the difference more clearly. That's an example of how design can literally save lives.
Oprah: How do we begin to create more design in our lives?
Daniel: Carry a notebook and write down examples of good and poor design. After a week, you'll begin to realize that nearly everything is the product of a design decision. The type of lid you put on the cup of coffee you bought this morning was a design decision. So were the shoes you're wearing.
Oprah: Before reading your book, I'd always thought of design in terms of fashion. But then I started noticing the plates that I chose for my home, the kinds of kitchen counters, the knobs, the cabinets, all were about the design.
Daniel: I'm not trying to turn everyone into star designers. I'm trying to help people become more literate about design.
(Photo by George Burns. Source: www.oprah.com.)
---
Thoughts of Friends
Posted Jan. 2, 2008 6:15 a.m. by delicious
In
International Bestsellers
-
800 CEO Read Blog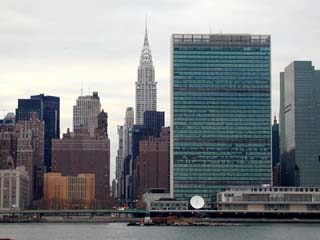 Seeing old friends during the holiday season always seems to encourage some reflecting. One thing that I personally thought about were the friends that no longer live close to me anymore. This past year, I made my usual pilgrimage to Hoboken, New Jersey where they moved to. Which is great because I get to stay near Manhattan with great pals, who could ask for more?
I have been visiting the New York City area on a fairly regular basis since 1989 and have done many things there. For instance, I have been to the cupcake place, the Strand, MOMA, the obligatory Broadway shows and all the usual touristy haunts from the start, or so I thought. What I did forget to do was the U.N. building. How could I have been so blind as to miss one of the most important touristy things to do in NYC?!?!
I was ashamed. Mortified. Taken aback, even!
After walking the Brooklyn Bridge (yes, I did not do that before, either) and right before getting a margarita at the pier (yes, I HAVE done that before), I urged my hosts to get me to the U.N., and found out that even they have not been there either. I felt I had done my little part to get us more educated. Then I wondered, when I saw the huge building and walked inside to see the many conference and meeting rooms, "Why haven't I ever wanted to see this before?" Not only is the U.N. one of the most important institutions in the world, but you get to see all sorts of cultures represented by their art, flags and photographs throughout its halls and rooms. If you get a chance to do so, get thee to the U.N.! You'll be amazed!! Oh, and the scenery from behind the building is just as spectacular!
By the way, be it NYC or any city, do try and plan to get back there at least one more time, you will be surprised by what you miss the first time. Which brings be to the point of this...here's what other people around the world are reading this past December:
Redefining Global Strategy - Spain

Strategic Intuition - Mexico

Boston Consulting Group on Strategy - Germany

CEO Within - Sweden

Sketching User Experiences - Mexico

OH and while I'm at it - here's the TOP 10 Books Sold Internationally in 2007!:
Green to Gold - Switzerland

Whole New Mind - Brussels

Redefining Global Strategy - Spain

Life After the 30-Second Spot - Mexico

Blue Ocean Strategy - France

Boston Consulting Group on Strategy - Poland

End of Poverty - United Arab Emiratis

Riding the Blue Train - United Kingdom

Treasure Hunt - Germany

True North - Switzerland

Happy 2008 Everyone!!
---