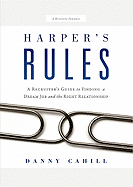 No volume discount available for
Hardcover
| | |
| --- | --- |
| Language | English |
| Published | Hardcover: 04/2011 |
| Publisher | Hardcover: Greenleaf Book Group |
| Availability | Hardcover: Available |
| Pages | Hardcover: 156 |
Harper's Rules: A Recruiter's Guide to Finding a Dream Job and the Right Relationship: A Business Parable
Harper's Rules is a funny and riveting story that will help you make smart decisions about your next career or relationship move. Casey Matthews is facing a tough time: recently divorced, a job she doesn't like in jeopardy, and no prospects in her personal life. The egomaniacal but charming headhunter Harper Scott makes the bold claim that if she follows his headhunting rules, she will find the right job and the right relationship.
-If you've lost your trust in your boss, organization, or partner, it's time to leave.
-Prep for a first interview like you would for a first date.
-Never accept a counteroffer from a boss or a lover.
-Always ask for the job or the next date at the end of the meeting.
-The first six months of any job or relationship are false; buyer's remorse comes after.
As you follow Casey through the rough waters of misogynistic interviewers, hopeless crushes, and high-pressure career advancement, you'll discover sure-fire rules for landing your next your best job.
Look for similar items
Product Identifiers
9781608321001 — Hardcover