Listen First!: Turning Social Media Conversations Into Business Advantage (New)
How many of you have an effective listening strategy? To help guide you in the listening maze, identify new business opportunities, and select the right partners for the development and implementation of an effective listening strategy, this book is a must and an enjoyable read. (Prof. Yoram (Jerry) Wind, The Lauder Professor, The Wharton School). We started J&D's with a single idea to make everything taste like bacon. All we needed now were customers. So we decided to go where the conversations were, and we've been listening ever since. We use social media to connect with our customers, promote our advancements in bacon-o-vation, and ask for their feedback on new product development. If you're an entrepreneur or run a small business, this book will give you lots of examples and terrific and practical ideas for creatively listening to your customers and growing it. (Justin Esch, cofounder, J&D's Foods).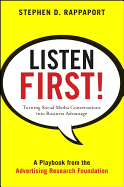 Your price: $24.95
No volume discount available.
| | |
| --- | --- |
| Language | English |
| Published | 04/2011 |
| Publisher | John Wiley & Sons |
| Availability | Available |
| Pages | 302 |
Look for similar items
Product Identifiers
9780470935514 — Hardcover