Marketing in the Participation Age: A Guide to Motivating People to Join, Share, Take Part, Connect, and Engage
Social environments can be designed to facilitate and enable participation, or they can just as easily cause disruption and disinterest. 'Marketing in the Participation Age' is based on the intrinsic motivation theory that people are motivated to seek challenges, to discover new perspectives, and in doing so, the activity itself stimulates their desire to actualise their individual human potential.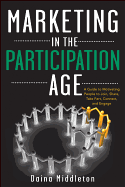 Your price: $29.95
No volume discount available.
| | |
| --- | --- |
| Language | English |
| Published | 11/2012 |
| Publisher | John Wiley & Sons |
| Availability | Available |
| Pages | 205 |
Look for similar items
Product Identifiers
9781118402306 — Hardcover