Responsibility at Work: How Leading Professionals Act (or Don't Act) Responsibly
Doing well by doing good. Over 1,200 people across nine different professions were interviewed to find out how motivation, culture, and professional norms intersect to produce work that is personally, socially, and economically beneficial. They found that the key to good work is responsibility, taking ownership for one's work, and its wider impact. This book looks at how responsibility is shaped by both personal and professional factors. It also explores the dysfunctions that can lead to compromise and cynicism in the workplace. Most importantly, it provides strategies for cultivating greater responsibility in both workers and in young people who will one day enter the workplace. Howard Gardner (Cambridge, MA) is the Hobbs Professor of Cognition and Education at the Harvard Graduate School of Education and the author of over 20 books translated into 24 languages.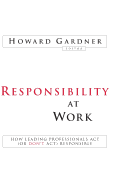 Your price: $29.95
No volume discount available.
| | |
| --- | --- |
| Language | English |
| Published | 08/2007 |
| Publisher | Jossey Bass |
| Availability | Available |
| Pages | 348 |
Look for similar items
Product Identifiers
9780787994754 — Hardcover