When Growth Stalls: How It Happens, Why You're Stuck, and What to Do about It
Stalled growth is the rule, not the exception - even for the best-managed companies. McKee's firm commissioned a study of 700 companies that used to be fastest-growing businesses. Here, he presents how companies lose their way, and offers practical advice about how they can rekindle growth.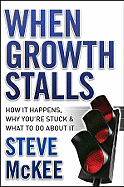 Your price: $27.95
No volume discount available.
| | |
| --- | --- |
| Pages | 220 |
| Availability | Available |
| Publisher | Jossey Bass |
| Published | 03/2009 |
| Language | English |
Look for similar items
Product Identifiers
9780470395707 — Hardcover