David Mattson
Books by David Mattson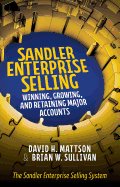 Available in: Hardcover, eBook
The comprehensive 6-stage selling program from Sandler Training--"Top 20 Sales Training Company" by
Selling Power
MagazineCompetitively pursuing large, complex accounts is perhaps the greatest challenge for selling teams. To keep treasured clients and gain new ones, you need a system to win business with profitable enterprise clients, serve them effectively and grow the relationships over time. You start with
Sandler Enterprise Selling
. The only enterprise selling system based on the proprietary Sandler Selling System methodology created by David H. Sandler This practical, step-by-step book is designed specifically for selling teams committed to high achievement in the enterprise environment. The program's powerful six stages will guide you to: 1. Set a baseline for success for each territory and account2. Identify opportunities with the highest probability of success3. Engage with buyers to qualify enterprise opportunities4. Craft solutions that directly address your client's needs5. Propose your solution and achieve advancement6. Serve and satisfy your client, earning the right to grow the business Each of the stages represents a key piece of the puzzle in the proactive, team-oriented Sandler Enterprise Selling (SES) process. With the proven training techniques in this book, you'll be able to use SES to win, grow and serve enterprise clients. You'll learn how to master 13 selling tools integral to your SES success--like the KARE Account Planning Tool, Growth Account Booster Tool, LinkedIn Levers Tool, and Client-Centric Satisfaction Tool. You'll discover practical solutions to the vastly complex challenges in enterprise organizations - extended sales cycles, wide buyer networks, or significant investments in pursuits. Overcoming these unique challenges presents great opportunities for selling teams. Sandler Enterprise Selling provides the framework needed to succeed in the enterprise arena, winning, growing and keeping major accounts. Note: These are the same training principles that are taught to tens of thousands of sales executives and managers every year at more than 200 Sandler Training companies around the world. If you want to stay competitive in the enterprise selling arena, you need to train, study, and read
Sandler Enterprise Selling
.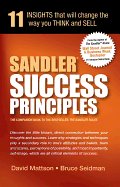 Available in: Hardcover
From the best-selling author of "The Sandler Rules" - a Wall Street Journal and Business Week bestseller and Amazon #1 Sales Book.
In this book you ll learn:
- How to excel at selling by confronting and overcoming the root cause of your negative behaviors
- Why self-control is a powerful weapon, and how it creates predictably lucrative relationships
- How to don your armor going into battle, and when you should relax and enjoy your castle
- Why you should cover your belly button and leave your inner child in the car during sales calls
The simple truths that lead to becoming and remaining a successful person are among the most precious secrets David Sandler famously unlocks for the highly paid and well-regarded sales representatives who are stellar graduates of Sandler Training programs. Now they are revealed for you to learn and use in your own business and career.
A remarkable and sometimes painful part of the process is uncovering the truth about yourself, including how your self-image was shaped sometimes carelessly and perhaps even cruelly. As you grasp the influence of these old tapes, you see how you have unknowingly sabotaged your potential for being at the top tier of sales professionals.
You may be astonished to discover what inner dialogue and even demons you now may choose to control and override. The results? You enjoy a significant advantage over those you seek to impress and persuade, and master a predictable way to reach and exceed your career, business and financial goals.
The enormous benefits of self-knowledge and imaginative new tools for self-management are at the heart of the challenging and exhilarating lifelong process of implementing the "Sandler Success Principles."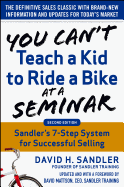 Available in: Hardcover, eBook
The timeless guide to sales success has been revised to help you supercharge personal and team performance in a new economy
"People make buying decisions emotionally and justify them logically."
That shrewd insight from the first edition of this bestselling book has become a no-brainer among sales professionals. Now, the new edition of classic work that has helped millions of sales professionals take their career to new levels offers critical new insights, information, and tools for success in today's economy.
You Can't Teach a Kid to Ride a Bike at a Seminar, Second Edition retains David Sandler's classic, battle-tested advice on driving personal and organizational success by breaking the rules of conventional selling. And now Sandler Training's CEO, David Mattson, has revisited it to provide additional skills designed for today's highly competitive and more complex sales landscape. With this powerful guide, you'll learn how to:
Take the lead in the "buyer/seller dance"
Get the prospect to do most of the talking
Have a process for answering questions from prospects
Know when a prospect is shopping you . . . and what to do about it
Move the relationship forward without becoming an unpaid consultant
Master the seven steps of the "Sandler Submarine"
Use LinkedIn as a prospecting and qualifying tool
Establish an "up-front contract," or call roadmap, before your face-to-face meeting
Use online research to turn "cold calls" into warm calls
Sales professionals and teams that follow these principles--and others outlined in the book--will transform themselves from mediocre performers into selling superstars.
This new edition of You Can't Teach a Kid to Ride a Bike at a Seminar is a potent mixture of Sandler's timeless techniques and best practices from the most effective sales operation today.