Michael Anthony
Books by Michael Anthony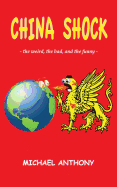 Available in: Paperback
China is on the way to becoming a global superpower, and the Chinese are bulldozing their way all over our planet. It's high time that the rest of the world knew more about this colossus. In this book, you'll discover:
How the Chinese are not just different but also very peculiar in so many aspects like beliefs and personality.
How China has been undergoing a major internal transformation, including a sex revolution.
How the Communist Party of China maintains total control of the country.
How China has carried out the biggest heist of Western intellectual property, and crippled the US economy.
How China's leaders are using The Art of War to defeat America, and conquer the world.
The book is very informative, full of vivid illustrations, and the result of years of research by an author who lived in China, speaks Chinese, and is very familiar with the intricacies of modern China.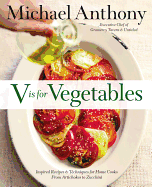 Available in: Hardcover
James Beard Award winner for Vegetable-Based Cooking
ONE OF THE BEST COOKBOOKS OF THE YEARThe Atlantic, Cooking Light, Chicago Tribune, The Daily Meal, Food + Wine, Food Republic, Los Angeles Times, Newsday, NPR, Washington Post
One of America's most highly acclaimed chefs gives us more than 150 simple recipes and techniques for imaginative vegetable cooking at home.
Gramercy Tavern's Executive Chef Michael Anthony believes a cook's job is to create delicious flavors and healthy meals. Written for the home cook, and featuring both vegetarian and non-vegetarian options, V IS FOR VEGETABLES celebrates the act of cooking vegetables he loves. Anthony shows how unlocking the secrets of vegetables can be as simple as roasting a beet, de-knobbing a Jerusalem artichoke, peeling a gnarly celery root, slicing a bright radish, washing a handful of just-picked greens.
V IS FOR VEGETABLES is personal, accessible, and beautiful. Its charming A to Z format celebrates vegetables in richly detailed illustrations, glorious food photographs, and lots of helpful how to do it techniques. Recipes include crispy composed salads, fresh herb sauces, satisfying warm gratins, vibrant stews, simple sautéed greens over a bowl of grains, and veggies with meat and fish, too.
V IS FOR VEGETABLES delivers the tools to transform and conquer the vegetables in a CSA basket, from the farmers market, and even the grocery store. It is an eye-opening book for vegetarians and omnivores alike.