Anthony Iannarino
Books by Anthony Iannarino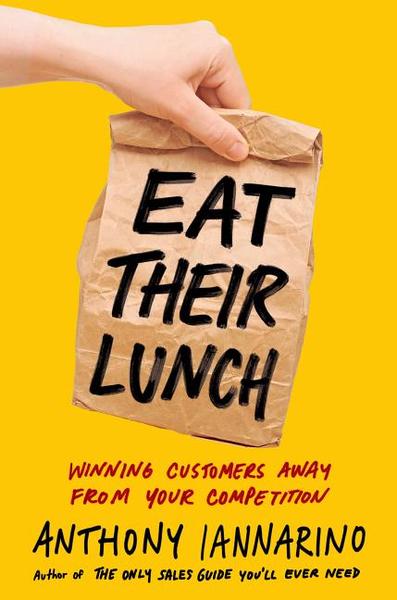 Available in: Hardcover
The first ever playbook for B2B salespeople on how to win clients and customers who are already being serviced by your competition, from the author of The Only Sales Guide You'll Ever Need and The Lost Art of Closing. Like it or not, sales is often a zero-sum game: Your win is someone else's loss. Most salespeople work in mature, overcrowded industries, your offerings perceived (often unfairly) as commodities. Growth requires taking market share from your competitors, while they try to do the same to you. How else can you grow 12 percent a year in an industry that's only growing by 3 percent? It's not easy for any salesperson to execute a competitive displacement--or, in other words, "eat their lunch." You might think this requires a bloodthirsty "whatever it takes" attitude, but that's the opposite of what works. If you act like a Mafia don, you only make yourself difficult to trust and impossible to see as a long-term partner. Instead, this book shows you how to find and maintain a long-term competitive advantage by taking steps like: * ranking prospective new clients not by their size or convenience to you, but by who stands to gain the most from your solution. * understanding the different priorities for everyone in your prospect's organization, from the CEO to the accountants, and addressing their various concerns. * developing a systematic contact plan for all those different stakeholders so you can win over the right people at the organization in the optimal sequence. Your competitors may be tough, but with the strategies you'll discover in this book, you'll soon be eating their lunch.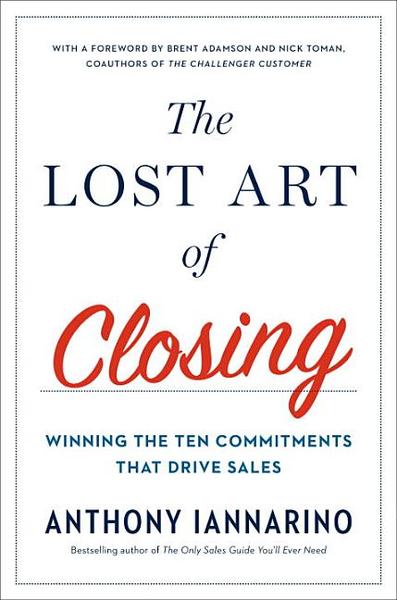 Available in: Hardcover
"Always be closing!" --Glengarry Glen Ross, 1992
"Never Be Closing!" --a sales book title, 2014
" " --salespeople everywhere, 2017

For decades, sales managers, coaches, and authors talked about closing as the most essential, most difficult phase of selling. They invented pushy tricks for the final ask, from the "take delivery" close to the "now or never" close.
But these tactics often alienated customers, leading to fads for the "soft" close or even abandoning the idea of closing altogether. It sounded great in theory, but the results were often mixed or poor. That left a generation of salespeople wondering how they should think about closing, and what strategies would lead to the best possible outcomes.
Anthony Iannarino has a different approach geared to the new technological and social realities of our time. In The Lost Art of Closing, he proves that the final commitment can actually be one of the easiest parts of the sales process--if you've set it up properly with other commitments that have to happen long before the close. The key is to lead customers through a series of necessary steps designed to prevent a purchase stall.
Iannarino addressed this in a chapter of The Only Sales Guide You'll Ever Need--which he thought would be his only book about selling. But he discovered so much hunger for guidance about closing that he's back with a new book full of proven tactics and useful examples. The Lost Art of Closing will help you win customer commitment at ten essential points along the purchase journey. For instance, you'll discover how to:
- Compete on value, not price, by securing a Commitment to Invest early in the process.
- Ask for a Commitment to Build Consensus within the client's organization, ensuring that your solution has early buy-in from all stakeholders.
- Prevent the possibility of the sale falling through at the last minute by proactively securing a Commitment to Resolve Concerns.
The Lost Art of Closing will forever change the way you think about closing, and your clients will appreciate your ability to help them achieve real change and real results.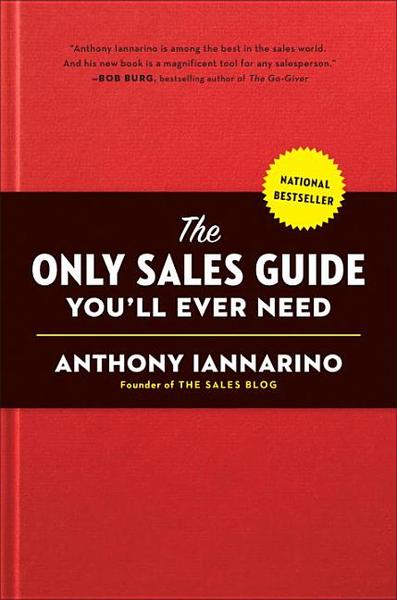 Available in: Hardcover
The USA Today bestseller by the star sales speaker and author of The Sales Blog that reveals how all salespeople can attain huge sales success through strategies backed by extensive research and experience. Anthony Iannarino never set out to become a salesman, let alone a sales manager, speaker, coach, or writer of the most prominent blog about the art and science of great selling. He fell into his profession by accident, as a day job while pursuing rock-and-roll stardom. Once he realized he'd never become the next Mick Jagger, Iannarino turned his focus to a question that's been debated for at least a century: Why are a small number of salespeople in any field hugely successful, while the rest get mediocre results at best? The answer is simple: it's not about the market, the product, or the competition--it's all about the seller. And consequently, any salesperson can sell more and better, all the time. Over twenty-five years, Iannarino has boiled down everything he's learned and tested into one convenient book that explains what all successful sellers, regardless of industry or organization, share: a mind-set of powerful beliefs and a skill-set of key actions, including... -Self-discipline: How to keep your commitments to yourself and others.
-Accountability: How to own the outcomes you sell.
-Competitiveness: How to embrace competition rather than let it intimidate you.
-Resourcefulness: How to blend your imagination, experience, and knowledge into unique solutions.
-Storytelling: How to create deeper relationships by presenting a story in which the client is the hero and you're their guide.
-Diagnosing: How to look below the surface to figure out someone else's real challenges and needs. Once you learn Iannarino's core strategies, picking up the specific tactics for your product and customers will be that much easier. Whether you sell to big companies, small companies, or individual consumers, this is the book you'll turn to again and again for proven wisdom, strategies, and tips that really work.