Cheryl Kimball
Books by Cheryl Kimball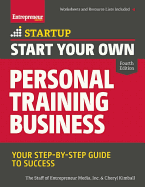 Available in: Paperback
Personal training is an exciting industry to be in right now! Starting a personal training business can offer a satisfying combination of financial reward, a flexible schedule, and a career where you can make a profound difference in the lives of others.
As skilled personal trainer, having good business knowledge and judgment can be the first step to earning a substantial income. In this revised guide, our experts teach you the nuts and bolts of starting a business, including everything from writing a business plan to finding a profitable niche. From boutique studios to partnerships with schools and private trainers, this book will help get you started on the right foot.
Available in: Paperback
Revision of: Third edition, by Entrepreneur Press and Ciree Linsenmann, 2011.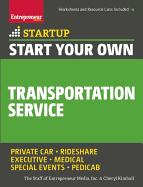 Available in: Paperback
Start Your Own Transportation Service shows readers how to create a revenue stream by thinking outside the traditional transportation box. Features information on how to start businesses in the areas of ridesharing, executive car service, special events, medical transport, and pedicab/party services. The personal transportation business is the hottest trend in the service industry, offering riders an alternative to traditional taxi, bus, and shuttle services. The perfect business for the entrepreneur, a transportation service allows business owners to go as big or as small as their market allows, from a single-car rideshare service to a full-fleet operation with multiple drivers. Featuring Entrepreneur's trusted branding and strategies, this title gives readers the keys to success.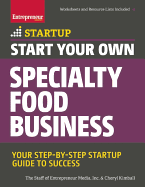 Available in: Paperback
"Topping $100 billion in sales in 2014 and primarily driven by small businesses, the specialty food industry presents a ripe opportunity for food artisans and aspiring entrepreneurs. Teamed with practicing entrepreneurs, the experts of Entrepreneur deliver the details behind what's needed to get started and what it takes to succeed"--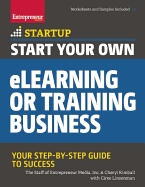 Available in: Paperback
"Exploring the opportunities within three growing, billion-dollar industries--eLearning ($50 billion+), corporate training/education ($200 billion+), and personal development ($10 billion)--this new addition to the Startup series [assists] eager entrepreneurs in creating startup success as an online educator or trainer"--
Available in: Paperback
"This up-to-date primer on one of today's hottest businesses walks readers step by step through the process of developing an event planning business, featuring more resources, new trends, new online tools and new interviews with fresh advice from successful event planners"--
Available in: Paperback
Self-publishing is a fast-growing industry, and bookstores and consumers alike now acknowledge the value of self-published books. In this valuable guide, industry experts coach you in becoming a player in the self-publishing arena--whether it is self-publishing your own book or providing professional services for others who want to self-publish. Our experts reveal the tricks of the self-publishing trade: how to evaluate book ideas and recognize a hot-seller; how to develop an effective marketing plan; getting books reviewed and landing great publicity; getting books into traditional and non-traditional sales channels; tapping into the potential of online publishing, and more. Addresses dramatic game-changers including print-on-demand and eBooks
Reviews industry player offerings including Ingram and Amazon
Covers critical marketing tools including author websites and social media marketing
Features interviews with industry insiders and practicing self-published authors Plus, a quick-reference guide to every step in the publishing process helps you along your way.

Available in: Paperback
Are you creative? Interested in taking your favorite hobby or inventive attitude to a new, more profitable level? Would you like to work from the comfort home, making money around the clock? Thanks to today's turnkey technology, in just a few clicks and a few days you can build a virtual gift store selling your favorite items to millions! Choose from today's hottest online gift businesses, including food, pets, hobbies, home goods, and holiday items, or debut and sell your signature goodies. In just one week, break into the billion-dollar gift industry, create a fully-functioning website, tap into millions of eager online shoppers, and more! - Design an attractive, multi-functional website using inexpensive, turnkey solutions that require no programming knowledge - Tap into the newest gift trends, and choose your specialty and services - Use easy, automated solutions that work 24/7 to accept orders and handle payments - Skillfully manage inventory, order fulfillment, customer service, and all other operations - Create repeat shoppers with online deals and promotions - Drive traffic using search engine optimization, social marketing, and other online marketing techniques