Perry Marshall
Books by Perry Marshall
Available in: Paperback
Google now processes 40,000 searches every second (that's 1.2 trillion searches every year) making this a key marketing strategy for businesses of any size. Focusing on the growing number of mobile users and increased localized searches, Perry Marshall and Mike Rhodes once again deliver the most comprehensive, current look at today's fastest, most powerful advertising medium.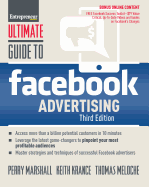 Available in: Paperback
"Covering the latest and breaking news in Facebook advertising, the second edition introduces revised, expanded and new chapters covering Fundamentals, Newsfeed ads, Sidebar ads, and BIG data. Plus, advertisers are taken further than Facebook itself. Marshall and co-authors provide priceless insight into the audience, exploring what was happening before the visitor clicked on an ad and what needs to happen after--10 seconds later, 10 minutes later and in the following days, and weeks"--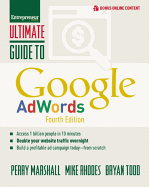 Available in: Paperback
Google processes nearly 6 billion searches every day--making it a powerful advertising medium your business can't afford to ignore.
Google AdWords experts Perry Marshall and Bryan Todd, joined by AdWords and analytics specialist Mike Rhodes, present the fundamentals, techniques, tools, and tricks that Google should teach you, but doesn't.
This latest edition introduces revised, expanded, and new chapters covering Enhanced Campaigns, Google AdWords Express, and Google's Product Listing Ads, as well as an introduction to Google's Universal Analytics.
You'll learn how to:
Master Enhanced Campaigns, Google Shopping Campaigns, and Google Analytics
Implement flexible bid strategies that keep you on budget
Triple traffic with Google's Display Network
Profit using local advertising
Corner the second largest search engine with YouTube ads
Avoid costly mistakes made by most Google advertisers
Chisel your way into tough markets
Write killer advertising and website copy that gets clicks
Determine what is and isn't working with Google's AdWords

Available in: Paperback
Guided by famed marketing consultant and best-selling author Perry Marshall, sales and marketing professionals save 80 percent of their time and money by zeroing in on the right 20 percent of their market -- then apply 80/202 and 80/203 to gain 10X, even 100X the success. With a powerful 80/20 software tool (online, included with the book), sellers and marketers uncover how to slash time-wasters; advertise to hyper-responsive buyers and avoid tire-kickers; gain coveted positions on search engines; differentiate themselves from competitors and gain esteem in their marketplace. With the included tools they'll see exactly how much money they're leaving on the table, and how to put it back in their pockets. Sellers will identify untapped markets, high-profit opportunities and incremental improvements, gaining time and greater profit potential. Supported by online tools from Marshall, including The 80/20 Power Curve, a tool that helps you see invisible money, and a Marketing DNA Test, a personal assessment that zeroes in on one's natural selling assets, this timeless guide promises to change the game for seasoned and novice marketers and sellers.