David Rothkopf
Books by David Rothkopf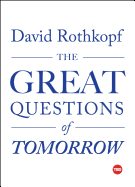 Available in: Hardcover
With the world at the threshold of profound changes, the question becomes: Where are the philosophers? Where are the great thinkers of today? Where is the next Jefferson, Curie, or Mandela? Which technologies and changes in the nature of life will they harness, embrace, or be inspired by? As the world's center of gravity has shifted over the centuries from Europe and then to the US, so too has the center of intellectual gravity. With that center shifting to Asia and also to the emerging world, will those places produce the transformational thinkers of the twenty-first century? Embarking on an around-the-world search, David Rothkopf strives to answer these questions, uncovering what the next big ideas are and where they're emerging. Who are the people behind the ideas, and how they will be colored by their place and culture of origins?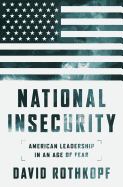 Available in: Paperback, Hardcover
In the wake of 9/11, America and its people have experienced a sense of vulnerability unprecedented in the nation's recent history. Buffeted by challenges from the wars in Iraq and Afghanistan to the financial crisis, from Washington dysfunction to the rise of China and the dawn of the era of cyber warfare, two very different presidents and their advisors have struggled to cope with a relentless array of new threats. You may think you know the story. But in National Insecurity, David Rothkopf offers an entirely new perspective into the hidden struggles, the surprising triumphs, and the shocking failures of those charged with leading the United States through one of the most difficult periods in its history. Thanks to his extraordinary access, Rothkopf provides fresh insights drawing on more than one hundred exclusive interviews with the key players who shaped this era. At its core, National Insecurity is the gripping story of a superpower in crisis, seeking to adapt to a rapidly changing world, sometimes showing inspiring resilience--but often undone by the human flaws of those at the top, the mismanagement of its own system, the temptation to concentrate too much power within the hands of too few in the White House itself, and an unwillingness to draw the right lessons from the recent past. Nonetheless, within that story are unmistakable clues to a way forward that can help restore American leadership.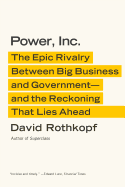 Available in: Paperback
Beginning with the story of an inquisitive Swedish goat wandering off from his master and inadvertently triggering the birth of the oldest company still in existence, "Power, Inc." follows the rise and fall of kings and empires, the making of great fortunes, and the chaos of bloody revolutions.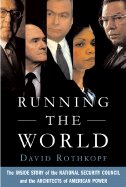 Available in: Paperback
A behind-the-scenes look at "the most powerful committee in the history of the world," the small group of men and women who work, often in secret, within the White House to make the most fateful decisions of our time.