Graham Winter
Books by Graham Winter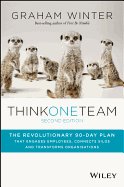 Available in: Paperback
What does it mean to think one team?
It's the big bold vision that can only happen when everyone collaborates across traditional silos.
It's the seamless service that customers rave about.
It's the leadership team working together on budgets and business plans.
It's the tough conversations, the co-creation and the breakthrough moments.
Anything else?
It's absolutely essential if you, your team and organisation want to survive and thrive in a world of unstoppable change and disruption.
In this second edition of the best-selling Think One Team, Graham Winter reveals the method and toolkit used by many of the world's leading companies to transform their businesses from silo-based to nimble and adaptive.
Written as an engaging and compelling story, you will learn how to use the simplicity and power of one team to engage employees, connect with colleagues and transform your whole organisation.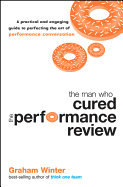 Available in: Paperback
Is there any other business process that consumes as much time and as many resources, damages as many relationships, generates as much ridicule and delivers as little value as the performance review?
Following the takeover of one of the world's most-loved franchises, employees are buckling under bureaucratic performance reviews instigated by an overzealous new owner. Morale is at rock bottom, trust between employees and managers has all but evaporated and staff are leaving. Two members of the team set out to find a cure for the ills of the performance review, eventually discovering a universal solution that is stunning in its simplicity and a breakthrough in its effectiveness.
In The Man Who Cured the Performance Review, Graham Winter weaves an engaging story that presents a framework to replace the bureaucracy of the performance review with simple tools and practices for fostering real performance conversations.
This book will inspire and guide you and your colleagues to:
eliminate the fear of feedback
create powerful two-way performance conversations
simplify the alignment of business goals to individual behaviour.
The Man Who Cured the Performance Review is a must-read for any manager, team leader or employee who wants to perfect the art of real conversations that will see them perform at their highest level.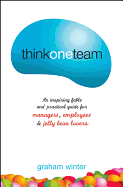 Available in: Paperback
Every day around the world, thousands of organisations irritate customers, frustrate employees and lose countless opportunities because of one simple reason: they don't think and act as one team. Sound familiar?
Sydney, Australia. At O'Donnell's Jelly Bean Company, life isn't so sweet. Between communication breakdown, staff turnover and the dreaded 'silo' syndrome, morale is at an all-time low and the company's outlook is grim. How will the staff at O'Donnell's overcome these hurdles to unite and save the company?
In "T""hink One Team"," " Graham Winter weaves a fun and engaging business fable into a practical model that unlocks the power of teamwork across boundaries, empowering organisations to realise the possibilities that come from thinking and acting as one team.
This book will inspire and guide you and your colleagues to: share the big picture not pursue separate agendas share the reality not avoid and deny share the air not stifle communication share the load not protect your own turf share the wins and losses not play I win, you lose.
An enjoyable tale of jelly beans and a company overcoming crisis, "Think One Team" is a must-read for anyone who wants his or her organisation to perform at its highest level.