Jason Fried
Books by Jason Fried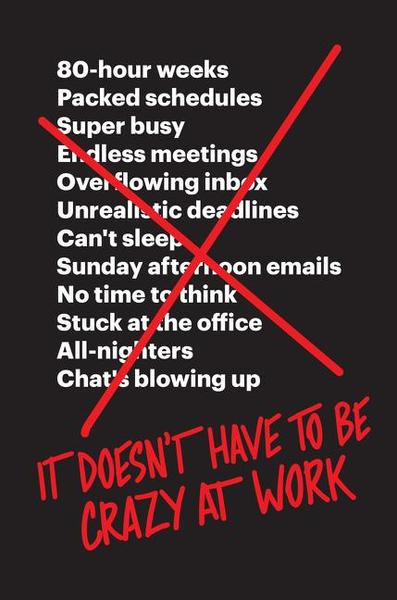 Available in: Hardcover
In this timely manifesto, the authors of the New York Times bestseller Rework broadly reject the prevailing notion that long hours, aggressive hustle, and "whatever it takes" are required to run a successful business today.
In Rework, Jason Fried and David Heinemeier Hansson introduced a new path to working effectively. Now, they build on their message with a bold, iconoclastic strategy for creating the ideal company culture--what they call "the calm company." Their approach directly attack the chaos, anxiety, and stress that plagues millions of workplaces and hampers billions of workers every day.
Long hours, an excessive workload, and a lack of sleep have become a badge of honor for modern professionals. But it should be a mark of stupidity, the authors argue. Sadly, this isn't just a problem for large organizations--individuals, contractors, and solopreneurs are burning themselves out the same way. The answer to better productivity isn't more hours--it's less waste and fewer things that induce distraction and persistent stress.
It's time to stop celebrating Crazy, and start celebrating Calm, Fried and Hansson assert.
Fried and Hansson have the proof to back up their argument. "Calm" has been the cornerstone of their company's culture since Basecamp began twenty years ago. Destined to become the management guide for the next generation, It Doesn't Have to Be Crazy at Work is a practical and inspiring distillation of their insights and experiences. It isn't a book telling you what to do. It's a book showing you what they've done--and how any manager or executive no matter the industry or size of the company, can do it too.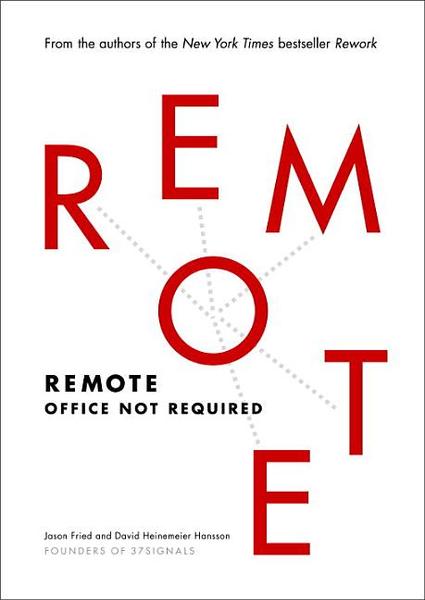 Available in: Hardcover
Basecamp founders Jason Fried and David Heinemeier Hansson explore the "work from home" phenomenon and show precisely how a remote work setup can be accomplished in Remote. The Industrial Revolution's "under one roof" model of conducting work is steadily declining as technology creates virtual workspaces that allow employees to provide their vital contribution without physically clustering together. Today, the new paradigm is "move work to the workers, rather than workers to the workplace." Remote work increases the talent pool, reduces turnover, lessens the real estate footprint, and improves the ability to conduct business across multiple time zones, to name just a few advantages. As Fried and Hansson explain the challenges and unexpected benefits of this phenomenon, they show why--with a few controversial exceptions such as Yahoo--more businesses will want to promote this model of getting things done.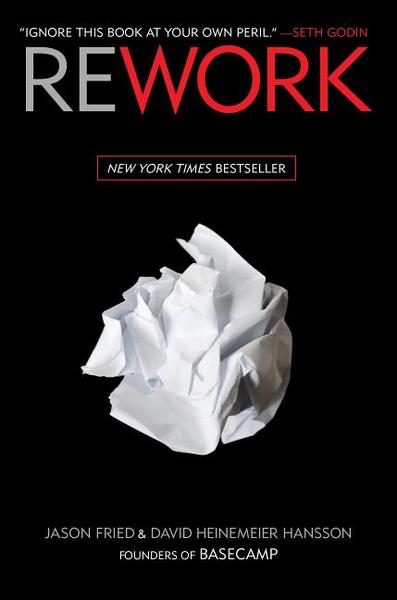 Available in: Hardcover
The perfect playbook for anyone who's ever dreamed of doing it on their own. Hardcore entrepreneurs, small-business owners, and people stuck in day jobs who want to get out will all find valuable inspiration and guidance in these pages. It's time to rework work.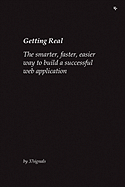 Available in: Paperback
Getting Real details the business, design, programming, and marketing principles of 37signals. The book is packed with keep-it-simple insights, contrarian points of view, and unconventional approaches to software design. This is not a technical book or a design tutorial, it's a book of ideas. Anyone working on a web app - including entrepreneurs, designers, programmers, executives, or marketers - will find value and inspiration in this book. 37signals used the Getting Real process to launch five successful web-based applications (Basecamp, Campfire, Backpack, Writeboard, Ta-da List), and Ruby on Rails, an open-source web application framework, in just two years with no outside funding, no debt, and only 7 people (distributed across 7 time zones). Over 500,000 people around the world use these applications to get things done. Now you can find out how they did it and how you can do it too. It's not as hard as you think if you Get Real.