Matthew Desmond
Books by Matthew Desmond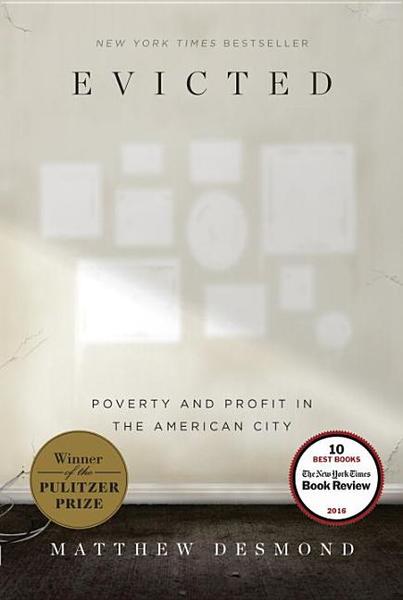 Available in: Paperback, Hardcover
"Even in the most desolate areas of American cities, evictions used to be rare. But today, most poor renting families are spending more than half of their income on housing, and eviction has become ordinary, especially for single mothers ... [In this book], Desmond provides a ground-level view of one of the most urgent issues facing America today. As we see families forced into shelters, squalid apartments, or more dangerous neighborhoods, we bear witness to the human cost of America's vast inequality--and to people's determination and intelligence in the face of hardship"--Dust jacket flap.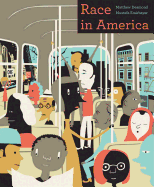 Available in: Paperback
A groundbreaking approach to thinking about race and racism today.

Available in: Paperback, Hardcover
Proceeding from the bold and provocative claim that there never has been a comprehensive and systematic theory of race, Mustafa Emirbayer and Matthew Desmond set out to reformulate how we think about this most difficult of topics in American life. In "The Racial Order," they draw on Bourdieu, Durkheim, and Dewey to present a new theoretical framework for race scholarship. Animated by a deep and reflexive intelligence, the book engages the large and important issues of social theory today and, along the way, offers piercing insights into how race actually works in America. Emirbayer and Desmond set out to examine how the racial order is structured, how it is reproduced and sometimes transformed, and how it penetrates into the innermost reaches of our racialized selves. They also consider howand toward what endthe racial order might be reconstructed.
In the end, this project is not merely about race; it is a theoretical reconsideration of the fundamental problems of order, agency, power, and social justice. "The Racial Order" is a challenging work of social theory, institutional and cultural analysis, and normative inquiry."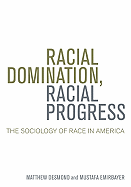 Available in: Paperback
"Racial Domination, Racial Progress: The Sociology of Race in America" looks at race in a clear and accessible way, allowing students to understand how racial domination and progress work in all aspects of society. Examining how race is not a matter of separate entities but of systems of social relations, this text unpacks how race works in the political, economic, residential, legal, educational, aesthetic, associational, and intimate fields of social life. "Racial Domination, Racial Progress" is a work of uncompromising intersectionality, which refuses to artificially separate race and ethnicity from class and gender, while, at the same time, never losing sight of race as its primary focus. The authors seek to connect with their readers in a way that combines disciplined reasoning with a sense of engagement and passion, conveying sophisticated ideas in a clear and compelling fashion.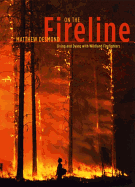 Available in: Paperback, Hardcover
In this rugged account of a rugged profession, Matthew Desmond explores the heart and soul of the wildland firefighter. Having joined a firecrew in Northern Arizona as a young man, Desmond relates his experiences with intimate knowledge and native ease, adroitly balancing emotion with analysis and action with insight. "On the Fireline "shows that these firefighters aren t the adrenaline junkies or romantic heroes as they re so often portrayed.
An immersion into a dangerous world, "On the Fireline "is also a sophisticated analysis of a high-risk profession and a captivating read.
Gripping . . . a masterful account of how young men are able to face down wildfire, and why they volunteer for such an enterprise in the first place. David Grazian, "Sociological Forum"
Along with the risks and sorrow, Desmond also presents the humor and comaraderie of ordinary men performing extraordinary tasks.. . . Agood complement to Norman Maclean's "Young Men and Fire." Recommended. "Library Journal""