Bruce Tulgan
Books by Bruce Tulgan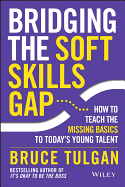 Available in: Hardcover
Solve the number one problem with today's young workforce--the soft skills gap
The number one challenge with today's young talent is a problem hiding in plain sight: the ever-widening soft skills gap. Today's new, young workforce has so much to offer--new technical skills, new ideas, new perspective, new energy. Yet too many of them are held back because of their weak soft skills.
Soft skills may be harder to define and measure than hard skills, but they are just as critical. People get hired because of their hard skills but get fired because of their soft skills.
Setting a good example or simply telling young workers they need to improve isn't enough, nor is scolding them or pointing out their failings in an annual review. However you can teach the missing basics to today's young talent.
Based on more than twenty years of research, Bruce Tulgan, renowned expert on the millennial workforce, offers concrete solutions to help managers teach the missing basics of professionalism, critical thinking, and followership--complete with ninety-two step-by-step lesson plans designed to be highly flexible and easy to use.
Tulgan's research and proven approach has show that the key to teaching young people the missing soft skills lies in breaking down critical soft skills into their component parts, concentrating on one small component at a time, with the help of a teaching-style manager. Almost all of the exercises can be done in less than an hour within a team meeting or an extended one-on-one. The exercises are easily modified and customized and can be used as take-home exercises for any individual or group, to guide one-on-one discussions with direct-reports and in the classroom as written exercises or group discussions.
Managers--and their young employees--will find themselves returning to their favorite exercises over and over again. One exercise at a time, managers will build up the most important soft skills of their new, young talent. These critical soft skills can make the difference between mediocre and good, between good and great, between great and one of a kind.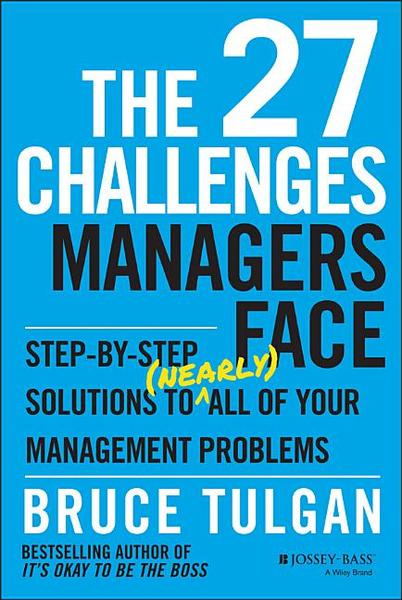 Available in: Hardcover
"Explains how to master the fundamental practice of effective management. Shows managers how to tailor conversations to solve specific problems, and teaches specific approaches to challenges like bad attitudes, friction and conflict, and low performers"--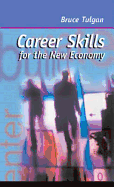 Available in: Paperback
This pocket guide provides all employees a game plan for succeeding in the modern, fast changing economy. Teaches how to learn and accumulate marketable skills that will transfer to different jobs and different companies.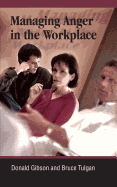 Available in: Paperback
In any organization, we must contend with competitors and unpredictable markets. There is bound to be conflict and therefore, conflict management is essential. Relationships at work tend to be interdependent, competitive, hierarchical, overexposed, and compulsory. Keeping the interests of yourself, your boss, your peers, your subordinates, your vendors, and your customers in alignment all the time is impossible. Learning the proper conflict management techniques are essential.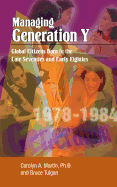 Available in: Paperback
A practical "how to" guide on understanding and managing the youngest cohort of workers. With three to four job experiences or internships under their belts, the Gen Yers pose new challenges for organizations that are already spending time, energy, and money recruiting and training young talent.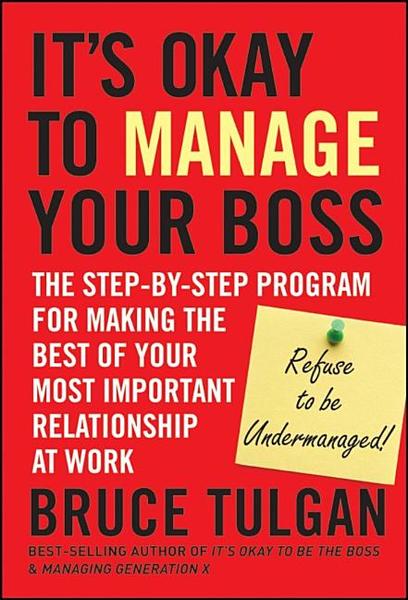 Available in: Hardcover
In this follow-up to the bestselling "It's Okay to Be the Boss," Tulgan reveals the four essential things employees should get from their bosses to guarantee success at work.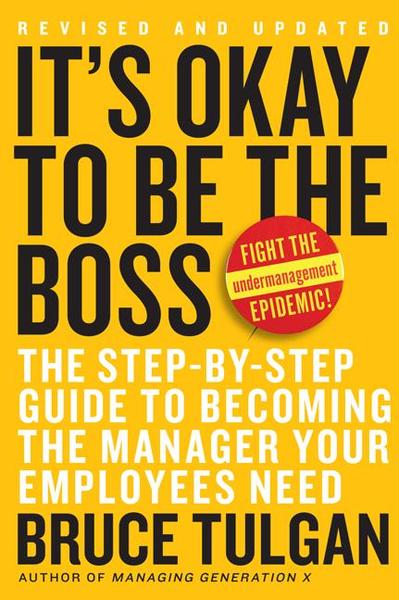 Available in: Hardcover
Tulgan shows bosses how to get things done, giving a clear, eight-step path to empower them to be the best bosses they can be.

Available in: Hardcover
Do you feel you don't have enough time to manage your people?
Do you avoid interacting with some employees because you hate the dreaded confrontations that often follow?
Do you have some great employees you really cannot afford to lose?
Do you secretly wish you could be more in control but don't know where to start?
Managing people is harder and more high-pressure today than ever before. There's no room for downtime, waste, or inefficiency. You have to do more with less. And employees have become high maintenance. Not only are they more likely to disagree openly and push back, but they also won't work hard for vague promises of long-term rewards. They look to you--their immediate boss--to help them get what they need and want at work.
How do you tackle this huge management challenge? If you are like most managers, you take a hands-off approach. You "empower" employees by leaving them alone, unless they really need you. After all, you don't want to "micromanage" them and don't have the time to hold every employee's hand. Of course, problems always come up and often snowball into bigger problems. In fact, you probably spend too much of your time solving problems and falling behind on your work . . . which leaves even less time for managing people . . . which opens the door for even more problems!
In "It's Okay to Be the Boss," Bruce Tulgan puts his finger on the biggest problem in corporate America--an undermanagement epidemic affecting managers at all levels of the organization and in all industries--and offers another way. His clear, step-by-step guide to becoming the strong manager employees need challenges bosses everywhere to spell out expectations, tell employees exactly what to do and how to do it, monitor and measure performance constantly, and correct failure quickly and reward success even more quickly. Now that's how you set employees up for success and help them earn what they need. Tulgan opens our eyes to the undisciplined workplace that is overwhelming managers and frustrating workers and invites bosses everywhere to accept the sacred responsibility of managing people. His message: It's okay to be the boss. Be a great one!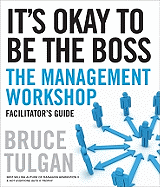 Available in: Paperback, Ringbound
Fight the Undermanagement Epidemic
Too many of today's supervisors, managers, and leaders are failing their staff and their organizations by "undermanaging." Falling victim to the empowerment craze of the last decade, they seem to have forgotten what it means to be the boss and are chronically undermanaging their employees. They do not take charge on the day-to-day business basics. They don't spell out expectations. They don't keep track of performance measurements. The don't correct mistakes or reward success.
"It's Okay to Be the Boss Facilitator's Guide" offers consultants, trainers, and human resource professionals a hands-on guide for conducting a dynamic workshop that will give anyone who manages (from seasoned executives to new supervisors) the information they need to become a great boss who is highly engaged when leading, managing, and supervising their employees.
Bruce Tulgan -- an expert in workplace issues -- explains the common obstacles to becoming an engaged manager and reveals which obstacles can be controlled and shows how to control them. Tulgan also offers effective strategies for working around obstacles that cannot be controlled.
The workshop explains eight back-to-basics techniques that clearly show how managers at all levels can become capable and highly-engaged and develop the confidence and skills to: Manage everyday and conduct effective regular one-one-ones with direct reports and others. Talk like a performance coach and communicate clearly and effectively. Work effectively with each direct report individually and acknowledge their strengths and weaknesses. Create an environment that holds employees accountable. Make expectations of employees clear by telling people what to do and how to do it. Monitor, measure, and document employee performance. Solve small problems before they become big problems. Tie rewards to performance.
"It's Okay to Be the Boss" package contains everything you need to conduct a full-day workshop including a "Facilitator's Guide," and introduction to the model, a script for training delivery, a PowerPoint slide deck, short instructional videos, and a sample "Participant Workbook."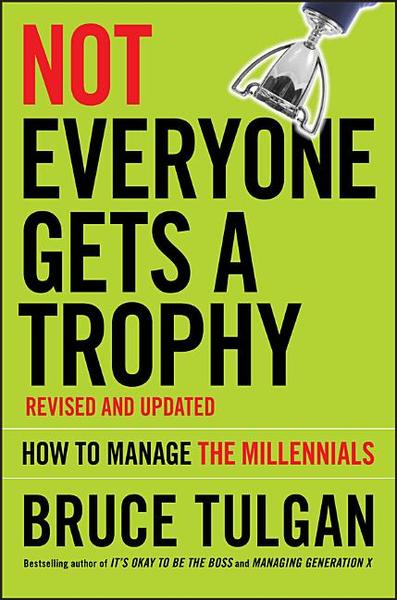 Available in: Hardcover
Revised edition of the author's Not everyone gets a trophy, 2009.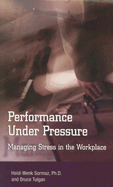 Available in: Hardcover
No description provided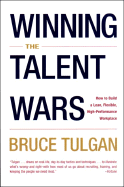 Available in: Paperback
"Bruce Tulgan is the new Tom Peters."--Howard Jenkins, chairman and CEO, Publix Super Markets, Inc.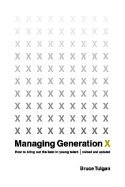 Available in: Paperback
Managing Generation X explains Generation X to its employers. It tunes in to the free-agent mindset that has swept across the entire workforce and serves as the best source of information on a generation that is leaving an indelible mark on the culture of American business. GenXers' willingness to walk away from any unsatisfactory employment relationship launched the staffing crisis that plagues employers today--and has allowed them to become the most entrepreneurial generation in history. Managing Generation X shows employers how to tap this valuable, quirky labor pool. GenXers speak in verbatim interview narratives on almost every page, offering their firsthand experiences as well as concrete advice on how to manage them (and how not to). Through the clear lens of Managing Generation X, we can see the future of work and the workforce of the future.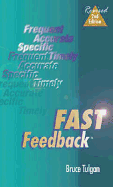 Available in: Paperback
FAST stands for Frequent, Accurate, Specific and Timely, and FAST Feedback is a new approach to performance evaluation in sync with today's fast-paced, rapidly changing workplace. FAST can be used in conjunction with or as an alternative to six and twelve month reviews. FAST links training directly with ongoing performance evaluation by keeping employees in a constant feedback loop. There are many ways to implement FAST Feedback in your organization, including the customizable forms included in this pocket guide.