Ryan Holiday
Books by Ryan Holiday
Available in: Hardcover, eBook
From the team that brought you The Obstacle Is the Way and Ego Is the Enemy, a beautiful daily devotional of Stoic meditations--an instant Wall Street Journal and USA Today Bestseller.
Why have history's greatest minds--from George Washington to Frederick the Great to Ralph Waldo Emerson, along with today's top performers from Super Bowl-winning football coaches to CEOs and celebrities--embraced the wisdom of the ancient Stoics? Because they realize that the most valuable wisdom is timeless and that philosophy is for living a better life, not a classroom exercise.
The Daily Stoic offers 366 days of Stoic insights and exercises, featuring all-new translations from the Emperor Marcus Aurelius, the playwright Seneca, or slave-turned-philosopher Epictetus, as well as lesser-known luminaries like Zeno, Cleanthes, and Musonius Rufus. Every day of the year you'll find one of their pithy, powerful quotations, as well as historical anecdotes, provocative commentary, and a helpful glossary of Greek terms.
By following these teachings over the course of a year (and, indeed, for years to come) you'll find the serenity, self-knowledge, and resilience you need to live well.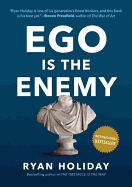 Available in: eBook, Hardcover
"While the history books are filled with tales of obsessive visionary geniuses who remade the world in their image with sheer, almost irrational force, I've found that history is also made by individuals who fought their egos at every turn, who eschewed the spotlight, and who put their higher goals above their desire for recognition."--
Available in: eBook, Paperback
"A new generation of megabrands like Facebook, Dropbox, AirBnb, and Twitter haven't spent a dime on traditional marketing. No press releases, no TV commercials, no billboards. Instead they rely on a new strategy-growth hacking-to reach many more people despite modest marketing budgets. According to bestselling author Ryan Holiday, growth hackers have thrown out the old playbook and replaced it with tools that are testable, trackable, and scalable. They believe that products and businesses should be modified repeatedly until they're primed to generate explosive reactions. Holiday offers rules and examples for aspiring growth hackers, whether they work for tiny startups or Fortune 500 giants"--
Available in: eBook, Hardcover
"A guide to overcoming adversity by drawing on the wisdom of the ancient Stoics"--
Available in: Hardcover
"How can we create and market creative works that achieve longevity? Holiday reveals that the key to success for many perennial sellers is that their creators don't distinguish between the making and the marketing. The product's purpose and audience are in the creator's mind from day one. By thinking holistically about the relationship between their audience and their work, creators of all kinds improve the chances that their offerings will stand the test of time."--
Available in: Paperback, eBook, Hardcover
As blogs control the news, the job of a media manipulator, like Holiday, is to control blogsNas much as any one person can. Tired of a world where blogs take indirect bribes, marketers help write the news, and reckless journalists spread lies, he explains exactly how the media really works.