Carlye Adler
Books by Carlye Adler
Available in: Hardcover, eBook
How did salesforce.com grow from a start up in a rented apartment into the world's fastest growing software company in less than a decade? For the first time, Marc Benioff, the visionary founder, chairman and CEO of salesforce.com, tells how he and his team created and used new business, technology, and philanthropic models tailored to this time of extraordinary change. Showing how salesforce.com not only survived the dotcom implosion of 2001, but went on to define itself as the leader of the cloud computing revolution and spark a $46-billion dollar industry, Benioff's story will help business leaders and entrepreneurs stand out, innovate better, and grow faster in any economic climate.
In "Behind the Cloud," Benioff shares the strategies that have inspired employees, turned customers into evangelists, leveraged an ecosystem of partners, and allowed innovation to flourish.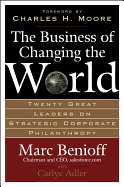 Available in: Hardcover, eBook
All across the globe, companies large and small are making a tremendous difference in the lives of others and, in turn, are enhancing employee performance, boosting morale, lowering turnover, and heightening brand recognition. In "The Business of Changing the World," Marc Benioff and 19 other leaders share their corporate philanthropy secrets for the first time, revealing how any company can start their own program and reap enormous benefits.
This inspiring collection of testimonies brings to light the need for community giving, the challenges of implementing a philanthropic initiative, and the qualities CEOs must possess in order to make their programs a success. Most important, it highlights the tremendous rewards society and businesses stand to earn.
These are just a few of the extraordinary leaders you'll hear from: Michael Dell explains how making a commitment to environmentally sustainable products isn't just the right thing to do-it makes good business sense Alan Hassenfeld, the chairman of Hasbro-a pioneer of the integrated corporation-shares why he believes he owes a debt to the children of the world and how Hasbro expanded its reach beyond the playroom UPS CEO Mike Eskew demonstrates how his company delivers on its legacy by adhering to a set of core values Timberland president and CEO Jeffrey Swartz tells how, by integrating social justice into its business model, the company represents the apex in innovation in CSR Michael Milken reveals how applying best business approaches to healthcare and education can have a positive impact on the U.S. economy
In "The Business of Changing the World," these trailblazers reveal why your company can-and should-start making the world a better place."
Available in: eBook, Hardcover
From Silicon Valley leader Maynard Webb, how we can leverage technology to change how we work
Maynard Webb has always been the go-to guy when Silicon Valley companies have thorny problems. Whether revamping eBay's crashing servers (transforming their technology weaknesses into a competitive strength) or investing in emerging technology start-ups, Webb brings strategic and operational savvy to every issue and venture. In his first book, Webb brings this same focus to tackle outdated models of work, created a century ago, which no longer sync up with either individual or employers' needs.
Through a unique framework, Webb identifies 4 different mindsets around work (the company man, CEO of your own destiny, disenchanted employee, and the aspiring entrepreneur). It organizes those who are self-motivated versus those who are waiting to be discovered and aims to give readers the tools to become more self-actualized, happier, and ultimately more fulfilled in their careers. In identifying a paradigm shift that is already under way, Webb demonstrates clearly how to harness technology to embrace our own personal happiness, allowing people to become more productive at work and also spend more time with their families. Contains a framework that demonstrates how we can leverage technology to create better job opportunities and foster more balanced lives Written by Maynard Webb, chairman of LiveOps, former COO of e-Bay, founder of Webb Investment Network (WIN), and board member of Yahoo! and salesforce.com Includes personalized worksheets and empowering action-oriented advice
"Rebooting Work" reveals how anyone can take control of his or her own future, finding greater fulfillment, productivity, and happiness.
Available in: Hardcover, eBook
The real story of what it takes to risk it all and go for broke.
Conventional wisdom says most startups need to be in Silicon Valley, started by young engineers around a sexy new idea, and backed by VC funding. But as Mikkel Svane reveals in Startupland, the story of founding Zendesk was anything but conventional.
Founded in a Copenhagen loft by three thirty-something friends looking to break free from corporate doldrums, Zendesk Inc. is now one of the hottest enterprise software companies, still rapidly growing with customers in 150 countries. But its success was anything but predestined. With revealing stories both funny and frank, Mikkel shares how he and his friends bravely left secure jobs to start something on their own, how he almost went broke several times, how they picked up themselves and their families to travel across the world to California and the unknown, and how the three friends were miraculously still together for Zendesk's IPO and (still growing) success.
Much like Zendesk's mission itself--to remove friction, barriers, and mystery in order to make customer service easier and more approachable--Startupland removes some of the myths about startups and startup founders. Mikkel's advice, hard-won through experience, often bucks conventional wisdom and entrepreneurial tropes. He shares why failure (whether fast or slow) is awful, why a seemingly boring product or idea can be the most exciting, why giving back to the community is as important as the bottom line. From how to hire right (look for people who are not offended by swearing) to which personas generate the highest response rates, Mikkel answers the most pressing questions from the perspective of someone still in the trenches and willing to share the hard truth, warts and all.
While there are books by consultants who tell you how to build businesses, or by entrepreneurs now running billion-dollar businesses, there are few books from people still in the trenches who acutely remember the difficult daily decisions, the thrill (and fears) of the early days, the problems that scale with growing a business, and the reason why they all went on the adventure in the first place. Startupland is indispensable reading for all entrepreneurs who want to make their ideas the next big thing. The book will inspire and empower you to follow your own dream and create your own story.