Carol Sanford
Books by Carol Sanford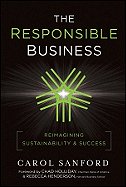 Available in: Hardcover
"When most people think of corporate responsibility, they are focusing on a business's effect on and relationship to stakeholders. A Responsible Business sees stakeholders as full partners and meaningful instruments for the evolution of healthier communities and more successful businesses." --from the Introduction
"The Responsible Business" offers a new and strategic approach to doing business that holistically integrates responsibility into all aspects of an organization, allowing for returns at every level, business and social. This book goes beyond the often well intentioned but limited attempts at sustainability to present a framework that allows organizations to bring responsibility into everything they do and re-imagine success. From innovation, product development, and production processes to business management, strategic planning, and shareholder development, the author shows how being a Responsible Business is a practical skill that can be applied day-to-day at every level of the business.
No longer just the role of a department or the job of CSR professionals, successful responsibility and business efforts start at the business level, are then taken to the corporate level, and are finally applied throughout the organization. "The Responsible Business" outlines a framework for building a responsibility and consciousness infrastructure that applies a living systems view to the business and inspires all of its stakeholders, including shareholders.
Throughout the book, illustrated by examples from technology to manufacturing, large and small, public and private, Sanford demonstrates how to make responsibility integral to all aspects of a business as an engine for innovation, profitability, and purpose.
Praise for The Responsible Business
"This is a very significant book. It makes it clear that businesses have a single boss with five interrelated aspects. The stories are among the crispest, most evocative case histories I have seen. The book is for any corporate leader trying to do the impossible: create a business that recreates the world." --Art Kleiner, editor-in-chief, strategy + business, and author, "The Age of Heretics"
"Carol Sanford offers us a proven, practical, and systems-based approach that integrates five stakeholder groups into a business system working as an integral whole. Essential reading for leaders wanting a system framework for sustainability and business success!" --Otto Scharmer, MIT Sloan senior lecturer; author, "Theory U: Leading from the Future as it Emerges; and coauthor, Presence"
""The Responsible Business" challenges many assumptions corporate leaders, investment advisors, and sustainability experts have long taken for granted. It provides a road map that can help innovative businesses think about how to be truly transformational." --Sam Ford, Fast Company expert blogger and director, Peppercom
"The powerful concepts in "The Responsible Business" have changed the process of sustainable development and how communities truly thrive. Indeed, these proven approaches will be the roadmap to truly achieve the deepest level of living communities." --Bill Reed, founding member of LEED System and coauthor, "The Integrative Design Guide to Green Building"
"Critical for re-imagining the future of business. Rarely a day goes by that I do not call on this way of thinking and looking at the world. It is useful for taking on the big business decisions that so many of us face every day." --Chad Holliday, chairman, Bank of America
Available in: Hardcover
"Individuals, acting on deeply held beliefs and passion, are boldly imagining and bringing into existence a different world... Whether you're a business entrepreneur, a social entrepreneur, an investment entrepreneur, or an academic, artistic, or civil servant entrepreneur, devour this important and wise book."--From the Foreword by John Fullerton
Responsible entrepreneurs are a special breed, seeking to transform industries and even society itself. They challenge and refine cultural assumptions, laws, regulations, and even the processes of governance. This requires them to do and think far beyond what is usually required of business leaders.
"The Responsible Entrepreneur" offers a blueprint for this new kind of business leadership, describing the means by which any entrepreneur can pursue a higher order of work. In it, Carol Sanford, one of the most trusted names in responsible business development, brings her vast expertise in helping executives and corporations to the entrepreneur looking to launch and scale a venture. She maps this journey through four archetypes: The Realizing Entrepreneur: Industry Game-Changer The Reconnection Entrepreneur: Society Game-Changer The Reciprocity Entrepreneur: Culture Game-Changer The Regenerative Entrepreneur: Governance Game-Changer
By understanding the archetype most aligned with their goals, entrepreneurs will learn how to grow their business into a powerful platform that can leverage change, and even change the foundations that create our most pressing problems and issues. To illustrate these principles in action, "The Responsible Entrepreneur" features case studies based on long-term work and in-depth interviews with Google Innovation Labs, Indigenous Designs (the primary supplier for Eileen Fisher), FishPeople (who supply Costco and Google with gourmet seafood entrees), and many more.
For entrepreneurs seeking to pursue world-changing results, or impact investors looking to align their capital with their values, "The Responsible Entrepreneur" provides the frameworks to build a business and to evaluate and direct investments to create the greatest benefit for all stakeholders.
For anyone who wants to make a difference in the way businesses affect the world, "The Responsible Entrepreneur" lays out ways to make that aspiration focused and doable.