Colin Price
Books by Colin Price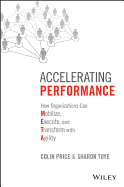 Available in: Hardcover
Transform your organization into a dynamic catalyst for success
Accelerating Performance is not just another -warm and fuzzy- change management book--it's a practical, comprehensive, data-driven action plan for picking up the pace and achieving more. Co-written by one of the authors of Beyond Performance, this book draws on a combination of empirical research and decades of experience advising global companies to show you how to reduce time to value by building and changing momentum more quickly than your competitors.
The META framework (short for Mobilize, Execute, and Transform with Agility) offers advice for leading change at four levels: strategy, the organization, teams, and individuals. In addition to step-by-step guidance toward assessment, planning, and implementation, the book offers:
A diagnostic tool for leaders, teams, and organizations to assess their starting place, and highlight the specific areas needed to improve the ability to accelerate performance.
A detailed look at the factors proven to create drag--and drive--at each of the four levels: strategy, organizations, teams, and individuals.
An exploration of the 39 differentiating actions that organizations can combine as dictated by their strategy and context into a winning recipe.
A closer look at the practices of 23 -superaccelerators, - a global (and perhaps unexpected) mix of companies that have demonstrated a consistent ability to accelerate performance.
A single taste of success is all it takes to spark change, but the hard work of following through requires constant vigilance--and a plan. Learn how to capture that drive, bottle it, and use it to sustain motivation, inspiration, and achievement. Deliver at the highest level, and then turn around and do even better next time. Accelerating Performance gives leaders a step-by-step framework for taking action and transforming their organizations, teams, and even themselves--starting today.
Available in: Hardcover
The greatest invention of all time isn't the wheel, it's organization. By working together effectively, people can achieve feats far beyond anything they could accomplish individually. At a time of unprecedented economic, political, and social change, organizations need more than ever to operate at peak levels of performance. In order to do so, they need leaders who understand both how to achieve organizational excellence and how to sustain it.
Evidence shows that only a third of organizations that achieve excellence are able to maintain it over decades. Even fewer manage to implement successful transformation programs. These statistics have devastating implications. In business, most of today's companies will falter within twenty years. In government, the majority of reform programs will fail. So will most efforts to create broader social change.
This book is written for those who intend to beat these odds. Based on one of the most extensive research efforts ever undertaken in the field of management, "Beyond Performance" shows how leaders can deliver performance today while also ensuring that their organizations stay fitfor the future.