Tyler Cowen
Books by Tyler Cowen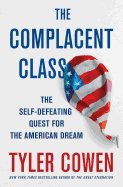 Available in: Hardcover
"Since Alexis de Tocqueville, restlessness has been accepted as a signature American trait. Our willingness to move, take risks, and adapt to change have produced a dynamic economy and a tradition of innovation from Ben Franklin to Steve Jobs. The problem, according to ... Tyler Cowen, is that Americans today have broken from this tradition--we're working harder than ever to avoid change ... Cowen [believes that] there are significant collateral downsides attending this comfort, among them heightened inequality and segregation and decreased incentives to innovate and create"--Amazon.com.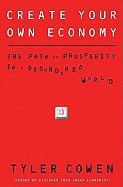 Available in: Hardcover
Not since the Industrial Revoltion has a man-made creation - the internet - so greatly influenced the way people's minds work. In this book, the author explains why the coming of Web 3.0 is good; why social networking is so necessary and how education, politics, literature and philosophy will become richer as a result.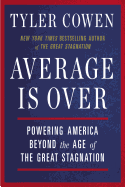 Available in: Paperback, Hardcover
The groundbreaking follow-up to the New York Times bestseller The Great Stagnation
The United States continues to mint more millionaires and billionaires than any country ever. Yet, since the great recession, three quarters of the jobs created here pay only marginally more than minimum wage. Why is there growth only at the top and the bottom?
Renowned economist and bestselling author Tyler Cowen explains that high earners are taking ever more advantage of machine intelligence and achieving ever-better results. Meanwhile, nearly every business sector relies less and less on manual labor, and that means a steady, secure life somewhere in the middle average is over.
In Average is Over, Cowen lays out how the new economy works and identifies what workers and entrepreneurs young and old must do to thrive in this radically new economic landscape.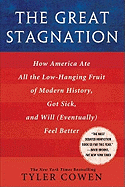 Available in: Hardcover
Tyler Cowen's "The Great Stagnation," the eSpecial heard round the world that ignited a firestorm of debate and redefined the nature of our economic malaise, is now-at last-a book.
America has been through the biggest financial crisis since the great Depression, unemployment numbers are frightening, media wages have been flat since the 1970s, and it is common to expect that things will get worse before they get better. Certainly, the multidecade stagnation is not yet over. How will we get out of this mess? One political party tries to increase government spending even when we have no good plan for paying for ballooning programs like Medicare and Social Security. The other party seems to think tax cuts will raise revenue and has a record of creating bigger fiscal disasters that the first. Where does this madness come from?
As Cowen argues, our economy has enjoyed low-hanging fruit since the seventeenth century: free land, immigrant labor, and powerful new technologies. But during the last forty years, the low-hanging fruit started disappearing, and we started pretending it was still there. We have failed to recognize that we are at a technological plateau. The fruit trees are barer than we want to believe. That's it. That is what has gone wrong and that is why our politics is crazy.
Cowen reveals the underlying causes of our past prosperity and how we will generate it again. This is a passionate call for a new respect of scientific innovations that benefit not only the powerful elites, but humanity as a whole.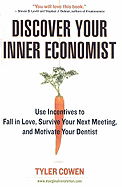 Available in: Paperback
Read Tyler Cowen's posts on the Penguin Blog.
In "Discover Your Inner Economist" one of America's most respected economists presents a quirky, incisive romp through everyday life that reveals how you can turn economic reasoning to your advantage--often when you least expect it to be relevant.
Like no other economist, Tyler Cowen shows how economic notions--such as incentives, signals, and markets-- apply far more widely than merely to the decisions of social planners, governments, and big business. What does economic theory say about ordering from a menu? Or attracting the right mate? Or controlling people who talk too much in meetings? Or dealing with your dentist? With a wryly amusing voice, in chapters such as "How to Control the World, The Basics" and "How to Control the World, Knowing When to Stop" Cowen reveals the hidden economic patterns behind everyday situations so you can get more of what you really want.
Readers will also gain less selfish insights into how to be a good partner, neighbor and even citizen of the world. For instance, what is the best way to give to charity? The chapter title "How to Save the World--More Christmas Presents Won't Help" makes a point that is every bit as personal as it is global.
Incentives are at the core of an economic approach to the world, but they don't just come in cash. In fact, money can be a disincentive. Cowen shows why, for example, it doesn't work to pay your kids to do the dishes. Other kinds of incentives--like making sure family members know they will be admired if they respect you--can work. Another non- monetary incentive? Try having everyone stand up in your next meeting if you don't want anyone to drone on. Deeply felt incentives like pride in one's work or a passing smile from a loved one, can be the most powerful of all, even while they operate alongside more mundane rewards such as money and free food.
"Discover Your Inner Economist" is an introduction to the science of economics that shows it to be built on notions that are already within all of us. While the implications of those ideas lead to Cowen's often counterintuitive advice, their wisdom is presented in ordinary examples taken from home life, work life, and even vacation life... How do you get a good guide in a Moroccan bazaar?
Read Tyler Cowen's posts on the Penguin Blog.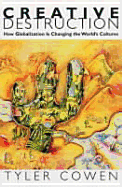 Available in: Paperback
A Frenchman rents a Hollywood movie. A Thai schoolgirl mimics Madonna. Saddam Hussein chooses Frank Sinatra's "My Way" as the theme song for his fifty-fourth birthday. It is a commonplace that globalization is subverting local culture. But is it helping as much as it hurts? In this strikingly original treatment of a fiercely debated issue, Tyler Cowen makes a bold new case for a more sympathetic understanding of cross-cultural trade. "Creative Destruction" brings not stale suppositions but an economist's eye to bear on an age-old question: Are market exchange and aesthetic quality friends or foes? On the whole, argues Cowen in clear and vigorous prose, they are friends. Cultural "destruction" breeds not artistic demise but diversity.
Through an array of colorful examples from the areas where globalization's critics have been most vocal, Cowen asks what happens when cultures collide through trade, whether technology destroys native arts, why (and whether) Hollywood movies rule the world, whether "globalized" culture is dumbing down societies everywhere, and if national cultures matter at all. Scrutinizing such manifestations of "indigenous" culture as the steel band ensembles of Trinidad, Indian handweaving, and music from Zaire, Cowen finds that they are more vibrant than ever--thanks largely to cross-cultural trade.
For all the pressures that market forces exert on individual cultures, diversity typically increases within society, even when cultures become more like each other. Trade enhances the range of individual choice, yielding forms of expression within cultures that flower as never before. While some see cultural decline as a half-empty glass, Cowen sees it as a glass half-full with the stirrings of cultural brilliance. Not all readers will agree, but all will want a say in the debate this exceptional book will stir.