Mark J Kohler
Books by Mark J Kohler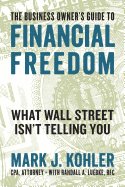 Available in: Paperback
Tailored for small business owners and entrepreneurs looking for long-term financial planning and retirement strategies, attorney and CPA Mark J. Kohler joined by expert financial planner Randy Luebke show today's seasoned entrepreneurs (and those planning to own their own businesses for the long term) a new way to address retirement.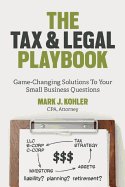 Available in: Paperback
The Tax and Legal Playbook: Strategies that Save You Time and Money
CPA and Attorney Mark J. Kohler answers the leading tax and legal questions facing small business owners, across all stages of business, and delivers a comprehensive playbook of clear-cut truths, thought-provoking advice, and underutilized solutions to save you time, money, and heartache.
You can read this book straight through or as a reference guide--reading the chapters as needed to answer the questions as they arise. You'll come away wiser and better equipped to make the best decisions for your business, your family, and yourself.
Covers:
- The ins and outs behind fundamental business decisions
- Underutilized tax and legal strategies that can save you thousands
- Picking the right legal entity for your business
- Common legal scams and deceptions to avoid
- Protecting your assets and planning for retirement
- Issues are illustrated with entertaining, real-world examples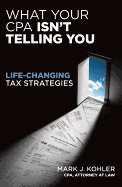 Available in: Paperback
Tackling the fundamental question asked by all taxpayers How can I save on my taxes?, attorney and CPA Mark Kohler empowers frustrated taxpayers to dismiss the common CPA jargon that their tax payment is what it is and ignore widely used tax talk like you just make too much money. Kohler reveals 8 life-changing tax principles, and teaches both wage earners and business owners how to apply fundamental, but underutilized tax strategies to achieve huge tax savings, greater wealth, and ultimately, a winning pursuit of the American Dream. Kohler presents wage earners with applicable strategies beyond writing off mortgage interest and contributing more to their IRA. Following the story of a typical family, tax payers discover the undeniable benefit of owning a side/or small business, how hiring their spouse and children can help their bottom line, the financial windfall that comes with owning rental real estate, and the secret success behind self directing their retirement plan, which is something 9 out of 10 CPAs don't know or don't talk about! Small business owners uncover new avenues for adding to their bottom line including how to save on health care and legitimate bookkeeping techniques that can put thousands back in their pocketall illustrated through checklists, charts and templates available in the additional resources toolkit provided by Kohler.