Joe Tye
Books by Joe Tye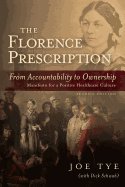 Available in: Paperback
No one has ever faced a healthcare crisis as dire as the one that confronted Florence Nightingale at the Scutari Barrack Hospital, yet despite the challenges over a 2-year period she defined the nursing profession and created a blueprint for the hospital as we know it today. Now she returns to Memorial Medical Center to help the leadership team foster a stronger culture of ownership. In this heartwarming and thought-provoking story you will learn: -Why no one ever checks the oil in a rental car, and proven strategies to foster a culture of ownership - Why a culture of ownership requires people who are Emotionally Positive, Self Empowered, and Fully Engaged (the 3 commitments of The Florence Challenge) - Why you need a blueprint for the Invisible Architecture of your organization and how to use a construction metaphor to create one - The 8 essential characteristics of a culture of ownership - How to use The Pickle Pledge to help people confront toxic emotional negativity and promote a more positive and productive workplace attitude - How the 7 promises of The Self-Empowerment Pledge can help you foster a more empowering culture With more than 200,000 copies in circulation in more than 500 hospitals and healthcare organizations, The Florence Prescription is the gift to your people that is also an investment in your organization. The Florence Challenge website includes a wealth of resources to help you optimize the impact of this book including leader's guide, PowerPoint study guide, webinar, and downloadable Florence Challenge Certificate of Commitment."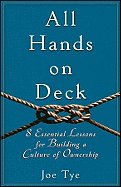 Available in: Hardcover
In the stormy seas of today's world economy, organizations need all hands on deck
In the stormy seas of today's world economy, organizations need people to own their work, not just rent a spot on the organization chart. "All Hands on Deck" is a fun-to-read story that is both a business strategy book about creating competitive advantage through corporate culture, and a personal development book that will inspire readers to be more committed and engaged with their work and their organizations. Drawing upon the wisdom of some of the greatest and most beloved business leaders of the 20th century, this essential guide: Creates a virtual roadmap for building a culture of ownership where so workers are inspired to think and act like partners in the enterprise, and not just hired hands Shares practical and proven strategies for earning employee buy-in and commitment to the values, vision, and purpose of the organization Features the real-world wisdom of some of the most successful and beloved business leaders of the 20th century, including Walt Disney, Ray Kroc, Mary Kay Ash, Bill Hewlett, and Dave Packard
A stirring resource for today's business environment, "All Hands on Deck" shares the tools you need to create an organization that competes and succeeds in today's turbulent world, and the inspiration that your people need to put those tools to work.