Josh Linkner
Books by Josh Linkner
Available in: Hardcover
A 5-part process that will transform your organization -- or your career -- into a non-stop creativity juggernaut
We live in an era when business cycles are measured in months, not years. The only way to sustain long term innovation and growth is through creativity-at all levels of an organization. Disciplined Dreaming shows you how to create profitable new ideas, empower all your employees to be creative, and sustain your competitive advantage over the long term. Linkner distills his years of experience in business and jazz -- as well as hundreds of interviews with CEOs, entrepreneurs, and artists -- into a 5-step process that will make creativity easy for you and your organization. The methodology is simple, backed by proven results.
Empowers individuals, teams, and organizations to meet creative challenges posed by the marketplace
Turns the mystery of creativity into a simple-to-use process
Shows how creativity can be used for everything from innovative, game-shifting breakthroughs to incremental advances and daily improvements to business processes
Offers dozens of practical exercises, thought-starters, workouts to grow "creative muscles," and case studies
Disciplined Dreaming shows even the stuffiest corporate bureaucracies how to cultivate creativity in order to become more competitive in today's shifting marketplace.
- #4 New York Times Best Seller (Advice, How-To and Miscellaneous)
- #8 New York Times Best Seller (Hardcover Business)
- #2 Wall Street Journal Best Seller (Hardcover Business)
- #9 Wall Street Journal Best Seller (Hardcover Nonfiction)
- #9 Washington Post Best Seller (Hardcover Nonfiction)
- #1 USA Today Best Seller (Money)
- #10 Entertainment Weekly Best Seller (Hardcover Nonfiction)
- #10 Publishers Weekly Bestseller (Hardcover Nonfiction)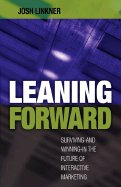 Available in: Hardcover
"Josh Linkner, CEO of ePrize, is a tremendous business leader who has established a successful and sustainable company, as well as a culture that nurtures employees to help them maximize their potential." - Jennifer M. Granholm, Governor, State of Michigan "Leaning Forward is a deep and highly aware look into the future of interactive marketing. A must-read for anybody who plans to compete and win in the brain age." - Dan Gilbert, Chairman and Founder, Quicken Loans and Majority Owner, Cleveland Cavaliers "Josh has given you reason to fear the programmed nature of obsolescence but more importantly his deep consumer knowledge will give you hope! This book will never be obsolete!!!" - David Sable, Vice Chairman/Chief Operating Officer, Wunderman (largest direct marketing company in the world) Leaning Forward takes a penetrating look at the future of Interactive marketing. Major brands throughout the world have embraced the 'Digital Revolution', and have fundamentally changed the way they interact with their consumers. As a marketer, you will learn what you need to know to stay ahead of the curve and compete in this dramatically changed landscape. Renowned entrepreneur Josh Linkner shows you real world examples of what the best marketers are doing today and where the trends are heading. You'll learn how the most savvy marketers: . Establish and nurture direct, one-to-one relationships . Motivate specific consumer behavior . Get marketing messages heard above the non-stop "noise" . Combine brand immersive experiences with proven direct-marketing techniques . Generate "hand-raisers" . Increase relevancy, response-rates, and overall performance . Drive immediate and measurable results By examining the major sea of change that has happened over the last ten years, Linkner shares best practices, trends, and helps readers avoid common pitfalls. A must-read for today's marketing professional, business owner, or aspiring entrepreneur. Josh Linkner --Founder and CEO, ePrize As a pioneer in interactive marketing and promotions, Josh has been involved in the development of thousands of digital marketing strategies over the last 14 years. As the founder and CEO of ePrize, he has led the firm from inception to being ranked the #1 fastest growing and #3 overall promotion agency by PROMO Magazine. ePrize has produced an industry-leading 4,000 interactive promotions for clients including Coca-Cola, American Express, The Gap, Procter & Gamble, Warner Bros. Dell, adidas, Citibank and General Motors. Josh has been featured in the Wall Street Journal, Fast Company, AdAge, Inc. magazine, Entrepreneur, and Adweek, and is a regular keynote speaker at industry events and conferences. Josh has won several business, technology, and design awards. He is also an accomplished and well-respected Jazz musician from which he draws the same passion and excitement toward business, and creating a culture of innovation, discipline, and creativity.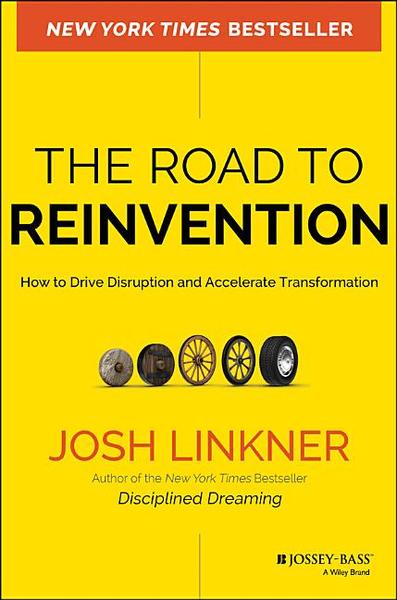 Available in: Hardcover
Companies, communities, and individuals fall for many reasons, but one of the most common--and easily avoidable--is the failure to reinvent. When people and organizations rest on prior successes rather than driving purposeful transformation, they discover too late that they have lost their market position altogether to competitors and external forces.
The most successful companies, brands, and individuals make reinvention a regular part of their business strategies. Transformation demands an ongoing process of discovery and imagination, and The Road to Reinvention lays out a systematic approach for continually challenging and reinventing yourself and your business. Venture capitalist and serial entrepreneur Josh Linkner identifies six elements in any business that are ripe for reinvention and shares examples, methods, and step-by-step techniques for creating deliberate, productive disruption.
Throughout The Road to Reinvention, Linkner also explores the history--the great rise, unprecedented fall, and now rebirth--of his beloved hometown, Detroit. First rising to greatness as the result of breathtaking innovation, Detroit had generations of booming growth before succumbing to apathy, atrophy, and finally bankruptcy. Now, the city is rising from the ashes and driving sustainable success through an intense focus on reinvention. Linkner brings an insider's view of this incredible story of grit, determination, and creativity, sharing his perspective on Detroit's successes and setbacks as a profound example of large-scale organizational and personal transformation.
Change is inevitable. You need to decide: Will you drive that change, or be driven away by it? Will you disrupt or be disrupted? By choosing to deliberately reimagine your own status quo, you can secure a strong future for both your company and your career.