Rodger Dean Duncan
Books by Rodger Dean Duncan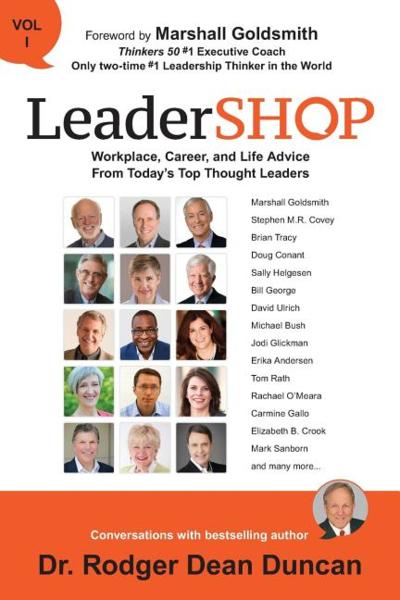 Available in: Paperback
Do you wish you could eavesdrop on conversations with some of today's smartest thought leaders?Here's your chance.
LeaderSHOP
provides candid talk from experts like Stephen M.R. Covey, Brian Tracy, Doug Conant, Sally Helgesen, David Ulrich, Bill George, Laura Vanderkam, Mark Sanborn, and dozens more.Coach and bestselling author Dr. Rodger Dean Duncan asks these experts the questions most pertinent to your success at work and in life. Their responses will inspire, motivate, and possibly even surprise you. And one thing's for certain: they'll make you smarter and better prepared to perform at the next level.With a foreword and additional commentary by Marshall Goldsmith, the World's only two-time #1 Leadership Thinker,
LeaderSHOP
is sure to become a favorite item in your personal development toolkit.In
LeaderSHOP
you'll get great ideas on how to:
challenge traditional definitions of leadership and success
deal with conflict in ways that strengthen relationships
cultivate personal gifts you didn't even know you had
create a to-be list that's more helpful than a to-do list
navigate office politics while advancing your own good causes
strengthen your personal and professional "brand"
build a user-friendly culture that brings out people's best
establish a high-trust, high-performance team
give and receive feedback that really helps
name and tame the "undiscussable" elephants in the room
increase your value at work, at home, in life
"Whether you're striving to be more effective with colleagues in the boardroom or with loved ones at your kitchen table,
LeaderSHOP
offers tools you can use."
- from the Foreword by
Marshall Goldsmith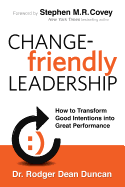 Available in: Hardcover
Most attempts to change fall flat. Around the world, countless change efforts are underway in all kinds of organizations, spearheaded by leaders with good intentions. Despite the good intentions, the majority of these programs will not succeed. Why? In this radical new book, practitioner Rodger Dean Duncan shows that humanness, approachability, and friendliness are necessary but often overlooked elements of making change successful. Change cannot be achieved by a press release, slogan, or announcement. Effective organizational change requires the active, mindful participation of the people affected by the change. Leaders must learn how to bring their entire team on board with changes and ensure they are invested in the process as well as in the outcome. The Friendly Factor is not just a play on words. It's the very foundation for effectively engaging people's heads, hearts, and hopes. The Change-Friendly framework is based on timeless principles that are tried and true in even the toughest situations. Using this framework will enable you to create effective, lasting change in your organization. Q&A with Rodger Dean Duncan What's so friendly about change? Often not much. And that's the point. Change squeezes us out of our comfort zone. The resulting discomfort produces stress. Stress often manifests itself as resistance. Resistance in the face of change is like having one foot on the brake while the other foot presses the gas pedal. We live in a moment of history where change is so fast-paced that we begin to see the present only when it's already disappearing. Change is not just faster. It's also exploding in quantity and magnitude. Experts say we can expect more change in our lifetimes than has occurred since the beginning of civilization more than ten millennia ago. Trying to keep up with change can feel like getting trapped on a runaway treadmill. Trying to manage it can be even harder. Then what's the solution? In a nutshell, we must create an environment that's receptive to change. This requires what I call change-friendly leadership. It's not leadership by title and it's certainly not leadership by command and control. It's leadership that genuinely engages the heads, hearts, and hopes of the people whose genuine buy in is critical to the success of the change. In this context, friendly is not intended to connote coddling or laissez faire. And it's certainly not intended to imply a warm and fuzzy, hands-off approach to serious issues. Change-friendly leadership is a behavior protocol or framework. It produces successful change by acknowledging the sentiments and leveraging the individual gifts of people affected by the change, regardless of their organizational roles. What does the change-friendly framework look like in actual practice? The Change-Friendly Leadership Model is quite simple. At the center are four sets of very specific behaviors. I call these the Four Ts: Think-Friendly, Talk-Friendly, Trust-Friendly, and Team-Friendly. Think-Friendly behaviors include exercising curiosity, asking smart questions, and challenging your own conclusions. Being Talk-Friendly involves dialogue skills, listening to learn and understand rather than to rebut and overpower. A person is Trust-Friendly by consistently earning trust and extending trust. This involves carefully avoiding common trust-busting behaviors that undermine credibility and influence. Being Team-Friendly means working with people in ways that foster genuine collaboration. It's much more than superficial team work. It's synergy on steroids, and it requires a special openness to other people's contributions. Aren't those behaviors just common sense? As Will Rogers noted, common sense isn't all that common. In fact, many people unwittingly sabotage their own change efforts. In their eagerness to accelerate change or performance improvement they rely on slogans, posters, high testosterone pep rallies and other motivational approaches. Are you saying that motivational efforts don't work? Personal motivation is wonderful. But it comes from within, not from without. You can educate people, you can entertain them, you can provide a good business case for action. But people must decide for themselves whether they buy in to the change you advocate. You can use carrots and sticks to get people to comply. But real change requires more than mere compliance. It requires commitment. That's where change-friendly leadership makes all the difference. So where's the roadblock? The problem with many change tools is that they are schizo-frantic. They involve too many moving parts and make too much noise. They disrupt everything in sight. As weapons of mass distraction, they sometimes scare more than inspire, confuse more than comfort. They can be self-fulfilling prophecies, producing exactly the turmoil that many people associate with change. This is not to suggest that change is easy or that change processes must be geared to the kindergartner. It's just to say that when change is needed, most people prefer the path to be as straightforward as possible. No academic jargon. No convoluted models. No jumping through unnecessary hoops. Just something that works. Plain and simple, thank you very much. Managing change does not mean a narrow, lock-step approach that controls all the variables. It means setting boundaries around the chaos, challenging the status quo, and providing a deliberate and proactive process for getting from point A to point B and beyond. That's where the Change-Friendly protocol can help? Exactly. Rather than merely responding to change as it hits us in the face, the smartest and most sure way to reaching our desired future state is to take deliberate and mindful leadership over the dynamics associated with the change. This must include: . Assessing the organizational, personal, and cultural barriers to change, transition, and implementation. . Identifying work-life disruptions that are the consequences of strategic change. . Developing strategies and tactics to minimize anticipated barriers to change. . Developing strategies and tactics to leverage key strengths to increase readiness and capacity for change. What's the bottom line? The bottom line is to accelerate the achievement of critical business goals with fewer resources and fewer human casualties along the way. In short, we must save time, save money, and help our people avoid burnout. That requires engaging their heads, hearts, and hopes. As I suggested earlier, it's not so much that people resist change per se. It's that we resist the stress that change often produces. People can learn to welcome change, but the primary emphasis must be on the human dynamics of change. Effective change is not just about spreadsheets and project charts. It's about winning the genuine commitment of real people. You can rent a person's back and hands, but you must earn his head and heart. For change to succeed, the emotional and behavioral aspects must be addressed as thoroughly as the operations issues. Change is inherently and inescapably an emotional human process. This is not touchy-feely stuff. It's smart business. Besides, aligning people with purpose is a hallmark of great leadership."