Jason R Rich
Books by Jason R Rich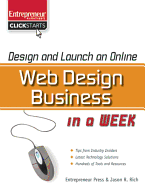 Available in: Paperback
Are you an online artist ready to take your passion to the next level? Would you love your creative talent to be on showcase for millions to see and buy? Thanks to today's amazing technology, it's easier than ever to tap into your passion and turn it into your next paycheck! In just a few days and a few clicks, you can build a successful online web design business selling your creative services. Discover how to easily develop your own website, effectively showcase your work, promote yourself to a worldwide audience, generate new clients, better service existing clients, and more! - Design an attractive, business website using inexpensive, turnkey solutions from established companies like Google, Yahoo! and Go Daddy that require no programming knowledge - Create a killer online portfolio that captures new clients - Use easy online tools that work 24/7 to handle requests and payments - Drive traffic using search engine optimization and other marketing and advertising techniques - Boost profits by expanding your specialty or your business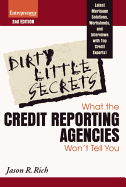 Available in: Paperback
What the credit bureaus don't tell you can cost you thousands. Jason Rich unearths these dirty little secrets in this tell-all expose' aimed at immediately improving your credit report. Whether you have credit problems, are trying to establish credit or want to improve your credit score, this previously undisclosed advice can help you save hundreds, perhaps thousands of dollars every month.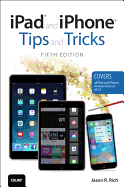 Available in: Paperback
iPad and iPhone Tips and Tricks Easily Unlock the Power of Your iPad, iPad mini, or iPhone Discover hundreds of tips and tricks you can use right away with your iPad, iPad mini, or iPhone to maximize its functionality. Learn how to use iOS 9 and utilize your Apple mobile device as a powerful communication, organization, and productivity tool, as well as a feature-packed entertainment device. Using an easy-to-understand, nontechnical approach, this book is ideal for beginners and more experienced users who want to discover how to use the iOS operating system with iCloud, and the latest versions of popular apps. This book covers all the latest iPhone and iPad models, including the iPhone 5s, iPhone 6, iPhone 6 Plus, iPhone 6s, and iPhone 6s Plus, as well as the latest iPad Air and iPad mini models and iPad Pro. Here s just a sampling of what the tips, tricks, and strategies offered in this book will help you accomplish: Discover how to use the new News, Wallet, iCloud Drive, and updated Music apps that come preinstalled with iOS 9. Discover how to take visually impressive photos, and then edit and share them using the redesigned Photos app. Learn secrets for using preinstalled apps, such as Contacts, Calendars, Reminders, Maps, Notes, Safari, Mail, Health, iBooks, and Music. Synchronize files, documents, data, photos, and content with iCloud, your computer, and/or your other iOS mobile devices. Learn how to interact with your tablet or phone using Siri or the new Hey Siri feature. Stay in touch with your friends and family using social networking apps, such as Facebook, Twitter, and Instagram. Discover the latest calling features built in to the iPhone, such as Wi-Fi Calling. Learn about cutting-edge features, such as Apple Pay and Family Sharing, as well as device-specific features like Split-Screen, Slide Over, and Picture-in-Picture (newer iPad models), as well as Peek and Pop (iPhone 6s and iPhone 6s Plus). Create and maintain a reliable backup of your iPhone or iPad using iCloud Backup. "
Available in: Paperback
My Digital Entertainment for Seniors helps bring you into the 21st century when it comes to their entertainment. Each chapter focuses on one aspect of entertainment - television, movies, radio, newspapers and magazines, books, and music and more, and offers clear, easy-to-understand explanations and directions for accessing and enjoying these forms of entertainment using computer, Internet and mobile device technology. My Digital Entertainment for Seniors clearly explains the difference between purchasing and streaming content, such as music or video, plus tells you exactly how to access this content, based on the type of Internet connection and equipment that s being used. For example, if using a smartphone with a preset monthly cellular wireless data (3G/4G/LTE) allocation, you'll learn why it s advantageous to use a Wi-Fi Internet connection from their mobile device to stream or download content. This guide also offers free options for all types of media.
Regardless of what type of media you wish to access, you now have many options. For each type of media, this book explains those options, the pros and cons of each, plus explains exactly how to utilize them using step-by-step, clearly illustrated directions. With My Digital Entertainment for Seniors, you'll develop a comprehensive understanding of digital entertainment, as well as how to access and use it in your everyday life, on devices you already own and pay for."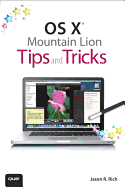 Available in: Paperback
Discover hundreds of tips, tricks, and shortcuts for doing more, sharing more, and having more fun with your Mac that's running Mountain Lion! This easy, nontechnical tutorial brings together powerful new ways to use OS X 10.8's coolest features and hottest new innovations! Perfect for Mac beginners, Windows(R) refugees, and long-time Mac users upgrading to Mountain Lion, it's packed with great ideas and solutions you would never discover on your own-all explained simply, step-by-step, with full-color pictures. Whether you're running a desktop iMac, a MacBook, or MacBook Air notebook computer, this book will make you even happier with your Apple computer than you already are! Here's just a sampling of what you'll learn how to do: - Make the most of Mountain Lion's new and revamped iPad-style apps - Share content on Facebook or Twitter instantly, without switching apps - Painlessly sync all your Apple devices (including your Macs, iPhone, iPad, or iPod touch) - Communicate more efficiently with Messages - Compete against other gamers online from your Mac - Get access to iCloud's any time/any where free storage - Use Apple's "Find My Mac" service to find and remotely password-protect your Mac if it's lost or stolen - Get Notification Center to show you what you want-and only what you want - Transcribe voice dictation straight into your apps - Discover great shortcuts for apps like Contacts, Calendar, and Mail - Automatically back up your stuff with Time Machine - Organize your life with Reminders and create detailed To Do lists that sync with all of your computers and Apple mobile devices - Wirelessly simulcast presentations, home videos, and iTunes content to your TV (using Apple TV) - Use iPhoto's Faces tool to sort images based on who's in them, and then edit, print, and share them with ease - Hold free real-time videoconferences with other Apple users using FaceTime or anyone using Skype - Transition painlessly from any version of Windows(R)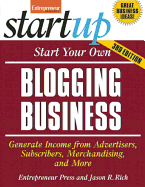 Available in: Paperback
Fully revised with new and expanded chapters, Start Your Own Blogging Business delivers the perfect startup guide for online enthusiasts. Providing valuable updates such as the latest forms of blogging including Twitter/micro-blogging, mobile blogging, and video blogging, the experts at Entrepreneur lead aspiring bloggers from planning and publishing their blog to promoting themselves and turning a profit. Also included are an appendix with Ten Proven Ways to Promote your Blog and How to Avoid the Most Common Blogging Mistakes, and a new chapter on creating creating original content to attract new and continuous followers, as well as updated interviews, insight, examples, and tips. Entrepreneurs are presented with new content ideas, fresh ways to promote their blogs, new techniques for generating revenue, and priceless advice from successful bloggers of today.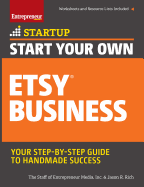 Available in: Paperback
With a reported 50 percent growth in seller services and a 33 percent revenue growth, Etsy has established itself as the destination site for those looking to buy handmade, local, and unique goods. A $2.4 billion industry, the artisan-created goods platform is a new addition to Entrepreneur's Startup series and takes a non-technical approach to setting up an Etsy shop. From creating item listings and promoting products to attracting worldwide visitors and turning them into customers, the experts of Entrepreneur teach readers how to get their handmade goods in front of more than 27.1 million active buyers worldwide--all from the comfort of home.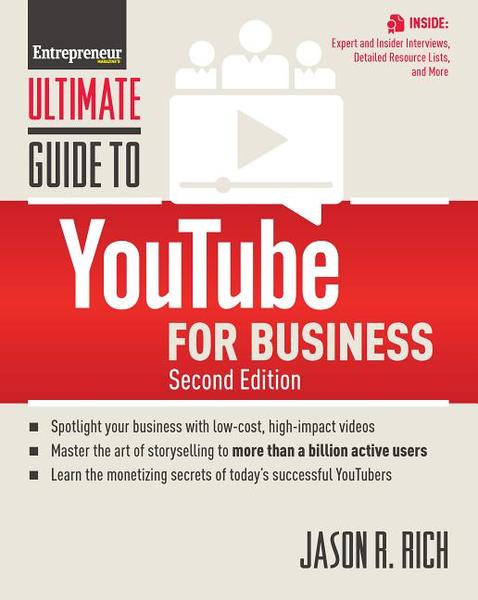 Available in: Paperback
Readers receive a full tutorial on pre-production and production essentials from developing video ideas that attract attention to overcoming lighting and sound challenges. Amateur producers receive a full list of equipment needed, gaining tips from well-known YouTubers on how to produce quality spots without breaking the bank. After covering the basics, Rich, joined by YouTube savvy entrepreneurs, reveal how small business owners can drive viewers to contact their business.