S Chris Edmonds
Books by S Chris Edmonds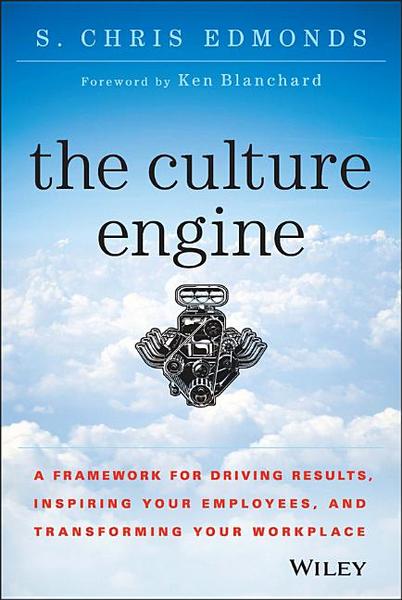 Available in: Hardcover
An organizational "North Star," codifying valued behaviors for optimal performance
The Culture Engine shows leaders how to create a high performing, values aligned culture through the creation of an organizational constitution. With practical step-by-step guidance, readers learn how to define their organization's culture, delineate the behaviors that contribute to greater performance and greater engagement, and draft a document that codifies those behaviors into a constitution that guides behavior towards an ideal: a safe, inspiring workplace. The discussion focuses on people, including who should be involved at the outset and how to engage employees from start to finish, while examples of effective constitutions provide guidance toward drafting a document that can actualize an organization's potential.
Culture drives everything that happens in an organization day to day, including focus, priorities, and the treatment of employees and customers. A great culture drives great performance, and can help attract and retain great talent. But a great culture isn't something that evolves naturally. The Culture Engine is a guide to strategically planning a culture by compiling the company's guiding principles and behaviors into an organizational constitution.
Decide which behaviors and attitudes are desired in the organization
Secure leader commitment to planning, drafting, and implementing the document
Learn the most effective way to socialize the draft statement and get everyone on board
Model desired behaviors to boost employee engagement throughout the process
Organizational culture is not an amorphous thing - it comes down from the top, inspired and exemplified by the leadership. It can steer a company up or down, keep it on mission or force it off-course. For an organization to fulfill its potential, the culture must be on-point, truly reflecting the heart of the company from leaders to team members across the company. The Culture Engine helps leaders define the playing field, pushing performance to the next level.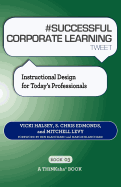 Available in: Paperback
The authors take traditional instructional design (ID) to its logical pinnacle with their meticulously conceived Brilliance Learning System, predicated on putting the learner first.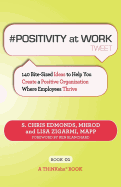 Available in: Paperback
Work is a good thing yet it's not always a positive thing. It's not always gratifying or enriching because people spend a majority of their waking life in organizations that don't create wellness. A positive workplace provides a constructive environment that fulfills our needs for autonomy, connection, and impact, while ensuring the means to food and shelter. Workplaces that enable positivity give employees access to the essential elements of well-being: positive emotion, positive relationships, purpose and meaning, positive accomplishment, and positive health. These elements, taken together, create individual and collective flourishing. When the conditions for well-being are present in the workplace, everybody-employer, employees, external stakeholders, and the wider society-benefits.
Expert organizational psychologists S. Chris Edmonds and Lisa Zigarmi have seen how positive organizations empower the people who work within them, while providing meaningful contributions to society. In #POSITIVITY at WORK tweet, they define and describe a positive workplace, and then go on to demonstrate how to engender positive emotions, relationships, accomplishment, and health at work. For example, since people show up at work with their hearts as well as their heads, leaders need to be as concerned with affect as well as results. Positive emotion reflects perceptions of safety, satisfaction, and achievement and produces future well-being and positive consequences. Expressing positive emotion is critical for human growth and development, and equally critical for organizational success. Or, to take another example, positive health, which means much more than just the absence of illness. Our physical conditions have a huge impact on our presence, skill application, and nimbleness at work. The more positive our physical health, the greater our connection to our work, peers, leaders, company, and customers.
Enabling positivity at work is not simple. Healthy work cultures happen by design, not default. It takes intentional choice to foster a culture of wellness. The responsibility lies not only with the employer, but also with the individuals who make up the organization. And in this effort, S. Chris Edmonds and Lisa Zigarmi's designed-for-action #POSITIVITY at WORK tweet is a perfect guide, one that will help you create a healthy, affirmative work environment where every individual contributes, connects, succeeds, and thrives.
"#POSITIVITY at WORK tweet" is part of the THiNKaha series whose slim and handy books contain 140 well-thought-out quotes (tweets/ahas)."S. Chris Edmonds" is a speaker, author, and senior consultant with the Ken Blanchard Companies. He is the author of "#CORPORATECULTURE tweet," co-author of Blanchard 's bestselling book, "Leading at a Higher Level," and also co-author of Blanchard 's award-winning culture change process. As Blanchard 's culture expert he has helped numerous clients create a high performing, values aligned culture using Blanchard 's proven process. Thousands of his followers on Twitter, Facebook, and LinkedIn look forward to his culture and leadership tweets each day.
"Lisa Zigarmi" is a Lead Client Service Partner for The Ken Blanchard Companies located in New York City. She works with Fortune 500 companies to build leadership capacity within their ranks and is passionate about creating saner, more effective, more meaning-driven organizations. She is currently researching employee work passion/engagement and helps leaders and organizations to create the conditions (role, organizational, and relational) for their employees to flourish. Lisa has an M.A. in Applied Positive Psychology from The University of Pennsylvania. She is also a certified coach, completing her coach training through The Coaches Training Institute.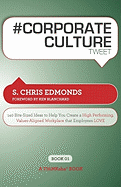 Available in: Paperback
In "#CORPORATE CULTURE tweet Book01," "S. Chris Edmonds" starts at the very beginning--by showing you how to recognize an organization's culture and identify what a healthy workplace culture looks, acts, and sounds like. This may sound trivial, but it is not. Oftentimes, surface appearances are deceptive and you need to dig a little to learn the truth. An organization that appears healthy and happy may have large numbers of low-productivity, demotivated employees. Conversely an organization that appears to have plateaued or be driven by a handful of strong personalities may, counter to intuition, boast of stellar performers and consistently upbeat results.
Having shown you how to recognize a healthy organization, the author uncovers the power of 'boss behavior.' Most of us remember our best boss ever, a person who created a work environment that enabled us to perform at our best while being incredibly satisfied with our boss, team, and work. Chris describes how great bosses behave to ensure that organizational culture standards are maintained and reinforced each day.
Just as culture change is hard for individuals, it is difficult for organizations. It takes discipline and effort to focus on culture management day in and day out. Which is why Chris also engages us on accountability behaviors and actions that ensure that the desired organizational culture is embedded and acted upon.
Written in the actionable tweet format and demonstrating the value that can be delivered in small packages, "#CORPORATE CULTURE tweet Book01" will find a home on every progressive corporate leader's bookshelf.
"#CORPORATE CULTURE tweet Book01" is part of the THiNKaha series whose 112-page books contain 140 well-thought-out quotes (tweets/ahas).