Barbara E Kahn
Books by Barbara E Kahn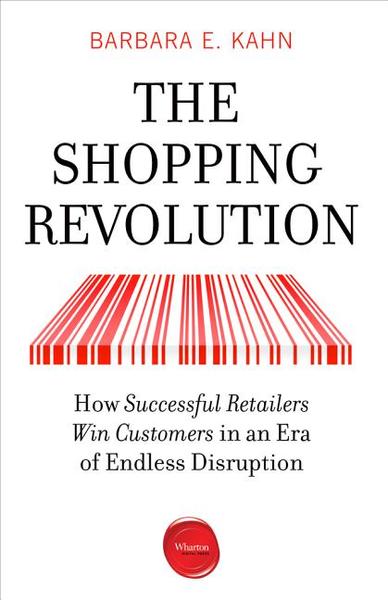 Available in: Paperback
SILVER WINNER, IBPA BENJAMIN FRANKLIN AWARDS & FINALIST, 2018 FOREWORD INDIES BOOK OF THE YEAR
Featured in The New York Times, Bloomberg, and Vox, The Shopping Revolution offers a "brilliant analysis of the disruptive effect that Amazon is having on the retail industry and how stores can fight back in order to survive," according to Forbes' Walter Loeb.
Amazon disrupts everything it touches and upends any market it enters. In the era of its game-changing dominance, how can any company compete?
We are just witnessing the start of the radical changes in retail that will revolutionize shopping in every way. As Amazon and other disruptors continue to offer ever-greater value, customers' expectations will continue to ratchet up, making winning (and keeping) those customers all the more challenging. For some retailers, the changes will push customers permanently out of their reach--and their companies out of business.
In
The Shopping Revolution
, Barbara E. Kahn, a foremost retail expert and professor at The Wharton School, examines the companies that have been most successful during this wave of change, and offers fresh insights into what we can learn from their ascendance.
Kahn, also the author of
Global Brand Power: Leveraging Branding for Long-Term Growth
, examines:
How did Amazon become the retailer of choice for a large portion of the US population, and how can other companies work with them or compete with them?
How did Walmart beat out other grocers in the late 1990s to become the leader in food retailing, and how must they pivot to hold their leadership position today?
How did Warby Parker make a dent in the once-untouchable Luxottica's lucrative eyewear business, and what can that tell start-ups about how to unseat a Goliath?
How did Sephora draw customers away from once-dominant department stores to become the go-to retailers for beauty products, and what can retailers learn from their success?
How are luxury and fast-fashion retailers competing in the ever-changing, fickle world of fashion?
Building on these insights, Kahn offers a framework that any company can use to create a competitive strategy to survive and thrive in today's--and tomorrow's--retail environment.
"A brisk and thought-provoking anatomy of shopping in the 21st century."
--Kirkus Reviews
"A must-read for anyone who aspires to reach customers today--and tomorrow."
--Marc Lore, CEO, Walmart eCommerce US
"A masterful storyteller, Barbara Kahn expertly unpacks the strategies of today's seemingly unbeatable retailers. An indispensable guide for anyone who has a product to sell."
--Stuart Weitzman, Founder, Stuart Weitzman LLC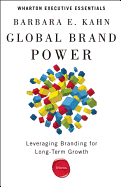 Available in: Paperback
The branding bible for today's globalized world Today, brands have become even more important than the products they represent: their stories travel with lightning speed through social media and the Internet and across countries and diverse cultures. A brand must be elastic enough to allow for reasonable category and product-line extensions, flexible enough to change with dynamic market conditions, consistent enough so that consumers who travel physically or virtually won't be confused, and focused enough to provide clear differentiation from the competition. Strong brands are more than globally recognizable; they are critical assets that can make a significant contribution to your company's bottom line. In Global Brand Power, Kahn brings brand management into the 21st century, addressing how branding contributes to the purchase process and how to position a strong global brand, from identifying the appropriate competitive set, offering a sustainable differential advantage, and targeting the right strategic segment. This essential guide also covers how customer ownership of your brand affects marketing strategy, methods for assessing brand value, how to manage a brand for long-term profitability, effective brand communications and repositioning strategies, and how to manage a brand in a world of total transparency--where one slip-up can go around the world via social media instantaneously. Filled with stories about how Coca-Cola, The Estée Lauder Companies Inc., Marriott, Apple, Starbucks, Campbell Soup Company, Southwest Airlines, and celebrities like Lady Gaga are leveraging their brands, Global Brand Power is the only book you will need to implement an effective brand strategy for your firm.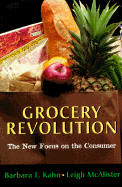 Available in: Paperback
This text provides an introduction to the understanding of changing consumer behaviour and trends in managerial practice in the grocery industry.