Bobby Monks
Books by Bobby Monks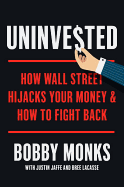 Available in: Hardcover
Bobby Monks is blowing the whistleon Wall Street, giving middle classAmericans the low down on how they rebeing fleeced of their retirementmoney and what they can do about it
Every month our financial statements arrive, and everymonth we glance at them, trying to understand, hopingthat we ll come out ahead. But most of us have no ideawhat s really going on or the costs involved. Accordingto Bobby Monks who has been a banker and borrower, investor and entrepreneur financial firms and moneymanagers have complicated the investing process to keepus in the dark, profiting from our ignorance.
Having dealt with the financial sector throughouthis career, Monks has seen it all. In "Uninvested," hereveals how, when, and why the relationship betweenus and our money managers became corrupted andwhat we can do to fix it. Monks shows how the systemworks not only against us as individuals but also againstsociety at large. Without our knowledge or approval, ourmoney is diverted into the pockets of CEOs and misappropriated, promoting business practices that contributeto economic inequality, political dysfunction, and environmentalwoe.
Monks experiences give him a unique perspectiveon how we got to this point. Drawing on originalresearch and interviews with key figures such asVanguard founder Jack Bogle, legendary investor CarlIcahn, and former congressman Barney Frank of theDodd-Frank Act, Monks teaches us how to take backownership and control of our money. As he writes:
"Even in the decades preceding the most recent downturn, very few investors enjoyed financial success equalto that of their money managers. Given this, I have longwondered why investors don t pull their money out of thesystem en masse.
"
"I suspect that it is because most feel powerless.Unaware of the implications of their investments andunable to penetrate the excruciating complexity of thesystem that facilitates them, many seem to seek refuge in their money managers aura of sophistication, pretense ofcompetence, and projection of certainty. It seems to methat most investors are simply sleepwalking through theinvesting process. They have become uninvested.
When we outsource our investing, we sacrifice control but not responsibility. My goal in writing this bookis to convince you that the best (and only) way to fix thisbroken system is to awaken a critical mass of engagedinvestors and recruit them to participate more fully in theinvesting process.
""