David Weinberger
Books by David Weinberger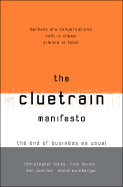 Available in: Hardcover
"The Cluetrain Manifesto" burst onto the scene in March 1999, with ninety-five theses nailed up on the Web. Within days, www.cluetrain.com had ignited a vibrant global conversation challenging sacred corporate assumptions about the very nature of business in a digital world. "The Wall Street Journal" called it "absolutely brilliant." Soon, executives from Fortune 500 companies everywhere were lining up to sign-on to the Manifesto. This is the book that delivers on the buzz. "The Cluetrain Manifesto" is a wake-up call that says business as usual is gone forever. Through the Internet, people are discovering and inventing new ways to share relevant knowledge with blinding speed. As a direct result, markets are getting smarter--and getting smarter faster than most companies. Today's markets are conversations. Their members communicate in language that is natural, open, honest, direct, funny, and often shocking. Companies that aren't listening to these exchanges are missing a dire warning. Companies that aren't engaging in them are missing an unprecedented opportunity. "The Cluetrain Manifesto" is the culmination of this very real phenomenon. It shares powerful, firsthand experiences describing how Internet business differs radically from the corporate status quo. The fact is that employees are getting hyperlinked even as markets are. Companies need to listen carefully to both. Forget business as usual, "The Cluetrain Manifesto" marks the dawn of something bigger: Markets are becoming better informed, smarter, and more demanding of qualities missing from most business organizations These networked markets are conversations in which customers are intelligent human beings, not faceless demographic sectors Today, the organizational chart is hyperlinked, not hierarchical. Respect for hands-on knowledge wins over respect for abstract authority Corporations must transform themselves into organizations that establish a genuine culture with a perspective, a personality, and a point of view Linking conversations inside the company to conversations in the marketplace will create enormous new value for companies that are clued-in.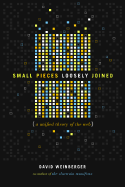 Available in: Hardcover
This text looks at how the web is transforming the concepts on which our society is built. It shows that the medium of the web is not only altering social institutions such as business and government but, more importantly, is transforming bedrock concepts of our culture such as space, time, the public and even reality itself. He introduces us to denizens of this world, among them Zannah, whose online diary turns self-revelation into play; Tim Bray, whose map of the web reveals what's at the heart of the web space; and Danny Yee and Claudiu Popa, part of the breed of web experts we trust despite their lack of qualifications.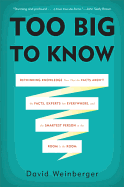 Available in: Hardcover
We used to know how to know. We got our answers from books or experts. We'd nail down the facts and move on. But in the Internet age, knowledge has moved onto networks. There's more knowledge than ever, of course, but it's different. Topics have no boundaries, and nobody agrees on anything.
Yet this is the greatest time in history to be a knowledge seeker . . . if you know how. In "Too Big to Know," Internet philosopher David Weinberger shows how business, science, education, and the government are learning to use networked knowledge to understand more than ever and to make smarter decisions than they could when they had to rely on mere books and experts.
This groundbreaking book shakes the foundations of our concept of knowledge--from the role of facts to the value of books and the authority of experts--providing a compelling vision of the future of knowledge in a connected world.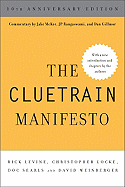 Available in: Hardcover
"The Cluetrain Manifesto" began as a Web site (cluetrain.com) in 1999 when the authors, who have worked variously at IBM, Sun Microsystems, the "Linux Journal," and NPR, posted 95 theses about the new reality of the networked marketplace. Ten years after its original publication, their message remains more relevant than ever. For example, thesis no. 2: "Markets consist of human beings, not demographic sectors"; thesis no. 20: "Companies need to realize their markets are often laughing. At them." The book enlarges on these themes through dozens of stories and observations about business in America and how the Internet will continue to change it all.
With a new introduction and chapters by the authors, and commentary by Jake McKee, JP Rangaswami, and Dan Gillmor, this book is essential reading for anybody interested in the Internet and e-commerce, and is especially vital for businesses navigating the topography of the wired marketplace.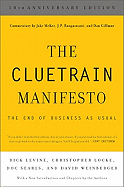 Available in: Paperback
Four of the liveliest personalities on the Web present a provocative, outrageous, and wickedly smart account of what it will take to prosper in the fast-forward world on the wire.