Nilofer Merchant
Books by Nilofer Merchant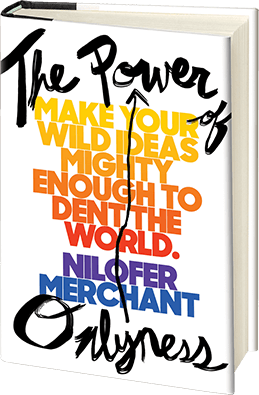 Available in: Hardcover
"If you're like most people, you wish you had the ability to make a difference, but you don't have the credentials or a seat at the table, or can't get past the gatekeepers, or aren't high enough in any hierarchy to get your ideas heard ... [Merchant believes] that, in fact, we have now reached an unprecedented moment of opportunity for your ideas to make a dent on the world. Now that the Internet has liberated ideas to spread through networks instead of hierarchies, power is no longer determined by your status"--Dust jacket flap.
Available in: Paperback
What people are saying about "The New How"
"How are you going to get rid of your Air Sandwich if you don't even know what it is? Provocative and practical at the same time."--Seth Godin, author of "Linchpin"
""The New How" is informative and provides exciting insights because the suggestions are practical and doable. Merchant gets the new reality--leadership fails not so much from flawed strategy as it does from failed processes of engagement from those responsible for implementing the strategy. In high-performing organizations, everyone acts like a leader, and they own the strategy and take actions to ensure its success. If you care about making a difference, read this book."--Barry Posner, author of "The Leadership Challenge"
"Collaboration is a powerful, competitive weapon: this book shows you how to use it to win markets."--Mark Interrante, VP Content Products, Yahoo, Inc.
"In a world in which the pace of change is ever quickening, collaboration, not control, is the route to a successful organization. This book tells you how to make your organization collaborative. And Nilofer Merchant's writing is a model of clarity."--Barry Schwartz, author of "The Paradox of Choice: Why More Is Less"
"Want to transform your organization into a collaborative enterprise? Nilofer Merchant provides insightful and practical strategies in "The New How.""--Padmasree Warrior, CTO, Cisco Systems, Inc.
"Merchant's book is a practical guide for the journey from strategy to implementation. The collaborative tools described here can help companies reach strategic success--and avoid pitfalls along the way."--Tom Kelley, General Manager, IDEO, and author of "Ten Faces of Innovation"
Once in a generation, a book comes along that transforms the business landscape. For today's business leaders, "The New How" redefines the way companies create strategies and win new markets.
Management gurus have always said "people matter." But those same gurus still relegate strategy to an elite set of executives who focus on frameworks, long presentations, and hierarchical approaches. Business strategy typically has been planned by corporate chiefs in annual meetings, and then dictated to managers to carry out. "The New How" turns that notion on its head. After many years of working with Apple, Adobe, HP, and many other companies, Nilofer Merchant discovered the secret sauce: the best way to create a winning strategy is to include employees at all levels, helping to create strategy they not only believe in, but are also equipped to implement.
In "The New How," Nilofer shows today's corporate directors, executives, and managers how they can transform their traditional, top-down approach to strategy planning and execution into collaborative "stratecution" that has proven to be significantly more effective.Enhance performance and outcomes by deflating the "air sandwich" between executives in the boardroom and employeesRecognize that strategy and execution are thoroughly intertwinedUnderstand how successful strategy is founded in effective idea selection-a pile of good ideas doesn't necessarily build good strategyCreate company strategy and link it to targeted execution, using the practical models and techniques provided