John Kennedy Toole
Books by John Kennedy Toole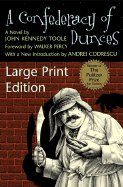 Available in: Hardcover - Large Print
Ignatius J. Reilly of New Orleans, --selfish, domineering, deluded, tragic and larger than life-- is a noble crusader against a world of dunces. He is a modern-day Quixote beset by giants of the modern age. In magnificent revolt against the twentieth century, Ignatius propels his monstrous bulk among the flesh posts of the fallen city, documenting life on his Big Chief tablets as he goes, until his maroon-haired mother decrees that Ignatius must work.
Available in: Paperback, eBook, Hardcover
This Pulitzer Prize-winning novel has sold over three-quarters of a million copies and continues to earn critical acclaim. The story of one Ignatius J. Reilly, a "Don Quixote of the French Quarter", it is a masterpiece of human folly and tragedy.