H. James Wilson
Books by H. James Wilson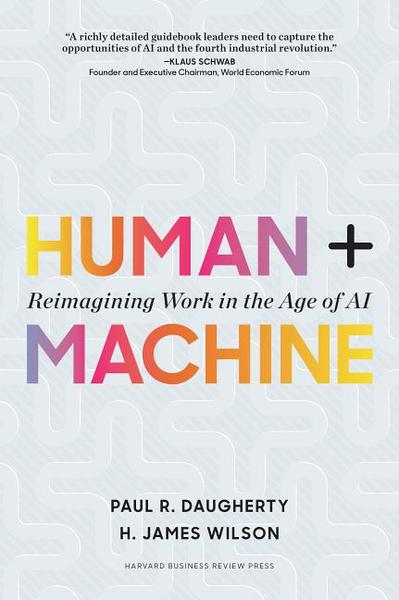 Available in: Hardcover
AI is radically transforming business. Are you ready?
Look around you. Artificial intelligence is no longer just a futuristic notion. It's here right now--in software that senses what we need, supply chains that "think" in real time, and robots that respond to changes in their environment. Twenty-first-century pioneer companies are already using AI to innovate and grow fast. The bottom line is this: Businesses that understand how to harness AI can surge ahead. Those that neglect it will fall behind. Which side are you on?
In Human + Machine, Accenture leaders Paul R. Daugherty and H. James (Jim) Wilson show that the essence of the AI paradigm shift is the transformation of all business processes within an organization--whether related to breakthrough innovation, everyday customer service, or personal productivity habits. As humans and smart machines collaborate ever more closely, work processes become more fluid and adaptive, enabling companies to change them on the fly--or to completely reimagine them. AI is changing all the rules of how companies operate.
Based on the authors' experience and research with 1,500 organizations, the book reveals how companies are using the new rules of AI to leap ahead on innovation and profitability, as well as what you can do to achieve similar results. It describes six entirely new types of hybrid human + machine roles that every company must develop, and it includes a "leader's guide" with the five crucial principles required to become an AI-fueled business.
Human + Machine provides the missing and much-needed management playbook for success in our new age of AI.
BOOK PROCEEDS FOR THE AI GENERATION
The authors' goal in publishing Human + Machine is to help executives, workers, students and others navigate the changes that AI is making to business and the economy. They believe AI will bring innovations that truly improve the way the world works and lives. However, AI will cause disruption, and many people will need education, training and support to prepare for the newly created jobs. To support this need, the authors are donating the royalties received from the sale of this book to fund education and retraining programs focused on developing fusion skills for the age of artificial intelligence.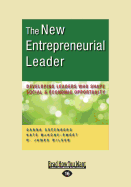 Available in: Paperback - Large Print
In years past, the keywords for leaders were confidence, single - minded purpose, and strategic planning. But today's vastly complex, globalized, and fast - evolving world requires a different kind of leadership. This game - changing book details a new approach - entrepreneurial leadership - developed at Babson College, the number - one school f...
Available in: Hardcover
In years past, the keywords for leaders were confidence, single-minded purpose, and strategic planning. But today's vastly complex, globalized, and fast-evolving world requires a different kind of leadership. This game-changing book details a new approach--entrepreneurial leadership--developed at Babson College, the number-one school for entrepreneurship in the world.
Entrepreneurial leadership is inspired by, but is separate from, entrepreneurship. It is a leadership approach that can be applied in any organizational situation, not just start-ups. Based on two years of extensive research, it embraces three principles that add up to nothing less than a fundamentally new worldview of business and a new logic of decision making.
The authors discovered that rapid change and increasing uncertainty require leaders to be "cognitively ambidextrous," able to shift between traditional "prediction logic" (choosing actions based on analysis of known trends) and "creation logic" (taking action despite considerable unknowns). Guiding this different way of thinking and acting is a different worldview of business and society, where simultaneous creation of social, environmental, and economic value is the order of the day. Entrepreneurial leaders also leverage their understanding of themselves and their social context to guide effective action.

Praise for The New Entrepreneurial Leader
"The Babson team cracked the code on global entrepreneurial leadership for the 21st century. Their three principles--cognitive ambidexterity, responsibility and sustainability, and self- and social awareness--are the bedrock for winning on the competitive global playing field of tomorrow. A conceptually sound and very practical guidebook for leadership success."
--Noel Tichy, Professor and Director, Global Citizenship Initiative, University of Michigan, and coauthor of "Judgment" (with Warren Bennis)
"Helps us understand the imperative for developing leaders who create both economic and social value. Importantly, this book offers a blueprint for how educators across the curriculum can prepare students to have the vision and ability required to achieve integrated value."
--Nancy McGaw, Deputy Director, Business and Society Program, Aspen Institute
"Precisely what our turbulent and uncertain environment requires: a new leader with good self-knowledge and passion, able to reconcile the apparent contradictions (in the yin-and-yang tradition of the Chinese) brought by complexity. The model will be a source of inspiration, and action, for all those concerned about leadership today."
--Henri-Claude de Bettignies, Emeritus Professor of Leadership and Responsibility, INSEAD, and Emeritus Professor of Global Responsible Leadership, CEIBS
"Working with Babson College, we've seen how its entrepreneurial approach to management education can unlock the growth and job-creation potential of small businesses across the United States. "The New Entrepreneurial Leader "is a must-read for anyone who is interested in positioning American students and businesses owners as the cornerstones of this country's economic recovery."
--Dina Powell, Global Head of Corporate Engagement and President of the Goldman Sachs Foundation, Goldman Sachs Group
"As business schools reconsider their point of arrival and their future destinations, "The New Entrepreneurial Leader" provides a vocabulary and conceptual road map for those institutions that consider entrepreneurship and innovation as the way forward. The book both provides a toolbox and shows the power of a core focus on entrepreneurship in developing a distinctive educational program that has implications for all business schools."
--Rakesh Khurana, Marvin Bower Professor of Leadership Development, Harvard Business School, and author of "From Higher Aims to Hired Hands "
"This book is an exemplar of the new wave of thinking about how to develop the next generation of entrepreneurs, leaders, and managers for the 21st century. The discussion is framed by tractable concepts and is grounded in practical application. You will gain a valuable perspective on what matters and how to deliver transformational learning to students."
--Robert F. Bruner, Dean and Charles C. Abbott Professor of Business Administration, Darden School of Business, University of Virginia, and author of "Deals from Hell"
"In a world overwhelmed with problems, we desperately need more entrepreneurial problem solvers--whether that's young people starting companies from scratch or change agents inside big companies launching breakthrough initiatives. This remarkable book showcases the newest thinking from Babson College, one of the world's most-admired centers of entrepreneurial education, about two timeless questions: what makes entrepreneurs special, and what are the most effective ways to teach aspiring entrepreneurs to succeed? The best education doesn't just tell you what you need to know; it changes how you think. This powerful book does just that."
--William C. Taylor, cofounder and Founding Editor, Fast Company, and author of "Practically Radical"
"In "The New Entrepreneurial Leader," Babson extends its own leadership in management education. Indeed, this book effectively argues that 21st-century management requires entrepreneurial leadership. Larger companies should require this book for every executive."
--Stephen Spinelli, President, Philadelphia University, and cofounder, Jiffy Lube International
"More than thirty years ago, Babson College was the first institution to teach entrepreneurship as a discipline, and once again, with the publication of "The Entrepreneurial Leader," Babson has demonstrated that it is an innovator in management education. This is a thought-provoking book that provides very practical insights on ways to teach future entrepreneurs how to think and act more critically and analytically, strive for greater self- and social awareness, and achieve outstanding results."
--William D. Green, Chairman, Accenture
"This book provides a vision for developing leaders who aspire to create social, environmental, and economic value simultaneously. It offers practical advice on how to transform management education to realize this vision."
--Liz C. Maw, Executive Director, NetImpact
"This is a book that was long overdue...the chapters that discuss the challenges of defining metrics for CSR and the difficulty of linking CSR to corporate social performance (CSP) have the potential to impact the content of our business curriculum."
--Dr. Norean Sharpe, Associate Dean, Undergraduate Programs, McDonough School of Business, Georgetown University
"Reinvention is essential and must be done with guts and in a vigorous manner. In The New Entrepreneurial Leader, you will find a viable approach to reinvent management education. This book is a must-read for all who run, teach in, or plan to attend a business school."
--Kevin C. Desouza, Associate Professor and Director, Institute for Innovation in Information Management, University of Washington, and author of "Intrapreneurship"
"This book builds on Babson's thirty years of pioneering researching and teaching entrepreneurship. It challenges conventional business education by arguing convincingly that the entrepreneurial mindset is key to success in our incredibly complex world--not just for entrepreneurs but also for managers, whether they operate in businesses or nonprofit organizations, in highly advanced or in emerging economies. It is a must-buy book."
--Guy Pfeffermann, CEO and Chairman of the Board, Global Business School Network