Thomas H Davenport
Books by Thomas H Davenport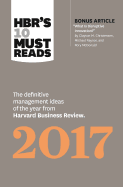 Available in: Paperback
A year s worth of management wisdom, all in one place.
We ve reviewed the ideas, insights, and best practices from the past year of Harvard Business Review to keep you up-to-date on the most cutting-edge, influential thinking driving business today. With authors from Clayton M. Christensen to Adam Grant and company examples from Intel to Uber, this volume brings the most current and important management conversations to your fingertips.
This book will inspire you to:
Rethink the way you work in the face of advancing automation
Transform your business using a platform strategy
Apply design thinking to create innovative products
Identify where too much collaboration may be holding your people back
See the theory of disruptive innovation in a brand new light
Recognize the signs that your cross-cultural negotiation may be falling apart
This collection of articles includes Collaborative Overload, by Rob Cross, Reb Rebele, and Adam Grant; Algorithms Need Managers, Too, by Michael Luca, Jon Kleinberg, and Sendhil Mullainathan; Pipelines, Platforms, and the New Rules of Strategy, by Marshall W. Van Alstyne, Geoffrey G. Parker, and Sangeet Paul Choudary; What Is Disruptive Innovation?, by Clayton M. Christensen, Michael Raynor, and Rory McDonald; How Indra Nooyi Turned Design Thinking into Strategy, an interview with Indra Nooyi by Adi Ignatius; Engineering Reverse Innovations, by Amos Winter and Vijay Govindarajan; The Employer-Led Health Care Revolution, by Patricia A. McDonald, Robert S. Mecklenburg, and Lindsay A. Martin; Getting to Si, Ja, Oui, Hai, and Da, by Erin Meyer; The Limits of Empathy, by Adam Waytz; People Before Strategy: A New Role for the CHRO, by Ram Charan, Dominic Barton, and Dennis Carey; and Beyond Automation, by Thomas H. Davenport and Julia Kirby.
"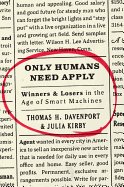 Available in: Hardcover
An invigorating, thought-provoking, and positive look at the rise of automation that explores how professionals across industries can find sustainable careers in the near future.
Nearly half of all working Americans could risk losing their jobs because of technology. It's not only blue-collar jobs at stake. Millions of educated knowledge workers--writers, paralegals, assistants, medical technicians--are threatened by accelerating advances in artificial intelligence.
The industrial revolution shifted workers from farms to factories. In the first era of automation, machines relieved humans of manually exhausting work. Today, Era Two of automation continues to wash across the entire services-based economy that has replaced jobs in agriculture and manufacturing. Era Three, and the rise of AI, is dawning. Smart computers are demonstrating they are capable of making better decisions than humans. Brilliant technologies can now decide, learn, predict, and even comprehend much faster and more accurately than the human brain, and their progress is accelerating. Where will this leave lawyers, nurses, teachers, and editors?
In Only Humans Need Apply, Thomas Hayes Davenport and Julia Kirby reframe the conversation about automation, arguing that the future of increased productivity and business success isn't either human or machine. It's both. The key is augmentation, utilizing technology to help humans work better, smarter, and faster. Instead of viewing these machines as competitive interlopers, we can see them as partners and collaborators in creative problem solving as we move into the next era. The choice is ours.