Monroe Mann
Books by Monroe Mann
Available in: Paperback
The $100 billion coaching industry has exploded since the 1990s, as harried businesspeople turn to experts to help them make the right decisions and get motivated. And while there are many books on the market teaching the basics of starting a coaching business, this book covers three unique coaching arenas--motivation, life and business. Readers will learn how to master the two separate disciplines of a successful coaching business: the art of motivating clients and the science of running a successful business. They'll discover how to establish their expertise to find new clients--and how to retain those clients. Smart pricing strategies and creative coaching package ideas will increase entrepreneurs' revenue potential. Sales and publicity tips will further help entrepreneurs build their business as a motivational, life or business coach, and in-depth explanations of expansion ideas are included to allow readers to go as far as their dreams will take them.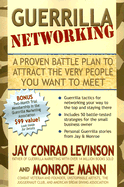 Available in: Paperback
"Guerrilla Networking" is all about becoming the type of person other people want to meet. Marketing legend Levinson and Mann, author of "The Theatrical Juggernaut," show how one can be that person.