Dennis Carey
Books by Dennis Carey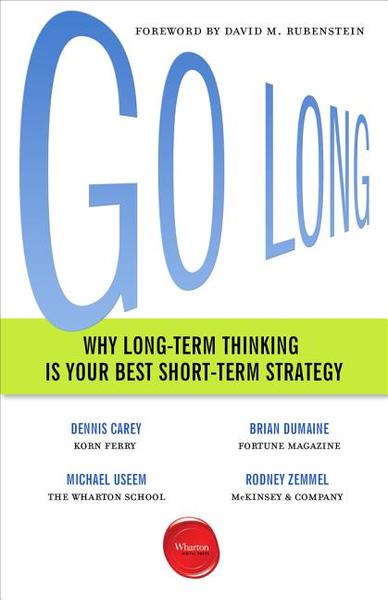 Available in: Paperback
The lifespans of companies are growing shorter each day. Why do some companies thrive and grow, while others fail?
Inspired by the CEO Academy, the annual off-the-record gathering of chief executive officers organized by the authors,
Go Long
reveals how some of the world's most prominent business leaders resisted short-term pressures to successfully manage their organizations for the long term, and in turn, aim to create more jobs, more satisfied customers, and more shareholder wealth. In
Go Long
, authors Dennis Carey, Brian Dumaine, Michael Useem, and Rodney Zemmel take you behind-the-scenes to witness the business decisions that are enabling leading organizations to outsmart and outlast the competition.
Why did CEO Larry Merlo allow CVS to take a $2 billion hit--on purpose?
How did CEO Alan Mulally maneuver Ford's $48 billion turnaround?
How did director Maggie Wilderotter and her fellow board members engage top management to embark on an unusual exercise to help Hewlett Packard Enterprise build a long-term strategy?
Why did CEO Paul Polman's turn back to Unilever's original mission of leading with a purpose to fuel profits?
How did CEO Ivan Seidenberg convince his investors and board to allow him to make a $150 billion bet?
How did CEO George Buckley find a way to address investor calls for 3M to spend less on research and development while still finding a way to innovate?
These leaders argue that a short-term mindset might satisfy investors for this quarter or next, but there's a heavy price to be paid. Instead, they argue, long-term thinking is your best short-term strategy.
Called a "mandatory read" by David M. Rubenstein, co-founder and co-executive chairman of The Carlyle Group, Go Long is a critical resource for leaders who want their organizations to survive over the long-term and for anyone who cares about the global economy.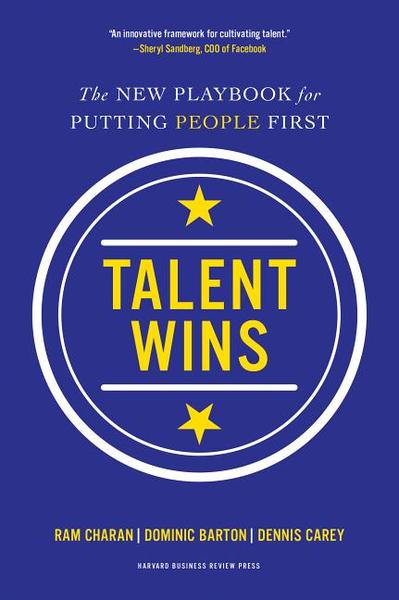 Available in: Hardcover
Radical Advice for Reinventing Talent--and HR
Most executives today recognize the competitive advantage of human capital, and yet the talent practices their organizations use are stuck in the twentieth century.
Typical talent-planning and HR processes are designed for predictable environments, traditional ways of getting work done, and organizations where "lines and boxes" still define how people are managed. As work and organizations have become more fluid--and business strategy is no longer about planning years ahead but about sensing and seizing new opportunities and adapting to a constantly changing environment--companies must deploy talent in new ways to remain competitive.
Turning conventional views on their heads, talent and leadership experts Ram Charan, Dominic Barton, and Dennis Carey provide leaders with a new and different playbook for acquiring, managing, and deploying talent--for today's agile, digital, analytical, technologically driven strategic environment--and for creating the HR function that business needs. Filled with examples of forward-thinking companies that have adopted radical new approaches to talent (such as ADP, Amgen, BlackRock, Blackstone, Haier, ING, Marsh, Tata Communications, Telenor, and Volvo), as well as the juggernauts and the startups of Silicon Valley, this book shows leaders how to bring the rigor that they apply to financial capital to their human capital--elevating HR to the same level as finance in their organizations.
Providing deep, expert insight and advice for what needs to change and how to change it, this is the definitive book for reimagining and creating a talent-driven organization that wins.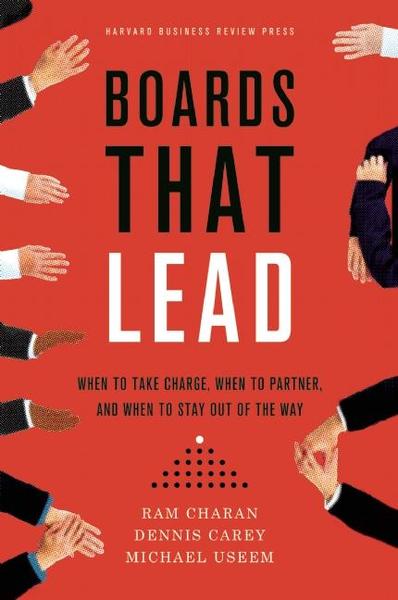 Available in: Hardcover
Is your firm's board creating value--or destroying it? Change is coming. Leadership at the top is being redefined as boards take a more active role in decisions that once belonged solely to the CEO. But for all the advantages of increased board engagement, it can create debilitating questions of authority and dangerous meddling in day-to-day operations. Directors need a new road map--for when to lead, when to partner, and when to stay out of the way. Boardroom veterans Ram Charan, Dennis Carey, and Michael Useem advocate this new governance model--a sharp departure from what has been demanded by governance activists, raters, and regulators--and reveal the emerging practices that are defining shared leadership of directors and executives. Based on personal interviews and the authors' broad and deep experience working with executives and directors from dozens of the world's largest firms, including Apple, Boeing, Ford, Infosys, and Lenovo, Boards That Lead tells the inside story behind the successes and pitfalls of this new leadership model and explains how to: - Define the central idea of the company
- Ensure that the right CEO is in place and potential successors are identified
- Recruit directors who add value
- Root out board dysfunction
- Select a board leader who deftly bridges the divide between management and the board
- Set a high bar on ethics and risk With a total of eighteen checklists that will transform board directors from monitors to leaders, Charan, Carey, and Useem provide a smart and practical guide for businesspeople everywhere--whether they occupy the boardroom or the C-suite.