Julie Jason
Books by Julie Jason
Available in: Paperback
This revised edition of Julie Jason's award-winning guide--updated to reflect current laws and statistics--will help Americans of all income levels achieve a secure retirement. She provides time-tested advice to those on the verge of retirement on how to create a "personal pension," and deftly shows prospective retirees how to evaluate their needs, anticipate future expenses, and convert present assets into future income. A tool kit includes self-assessments, tables, checklists, and essential questions.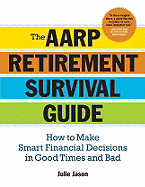 Available in: Paperback
Featuring easy-to-follow explanations and a wealth of real-life examples, AARPs guide to retirement planning helps readers take advantage of every available tool to make their retirement years the best of their lives.