Harry Newton
Books by Harry Newton
Available in: Paperback
This is a business dictionary of 29,019 defined technology terms -- covering the latest in telecommunications, computing, the Internet, The Internet of Things, networking and social media. It is a complete dictionary/encyclopedia of today's information technology. It is used by everyone from salesmen to lawyers, from corporate trainers to college educators, from corporate users to engineers. It is set as a required textbook in colleges teaching telecommunications and information technology. The book is written for businesspeople in non-technical language. Anyone can read and understand it.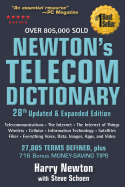 Available in: Paperback
"Telecommunications, the Internet, the Internet of things, wireless, cellular, information technology, satellites, fiber, everything voice, data, images, apps, and video"--Cover.