Martin Lindstrom
Books by Martin Lindstrom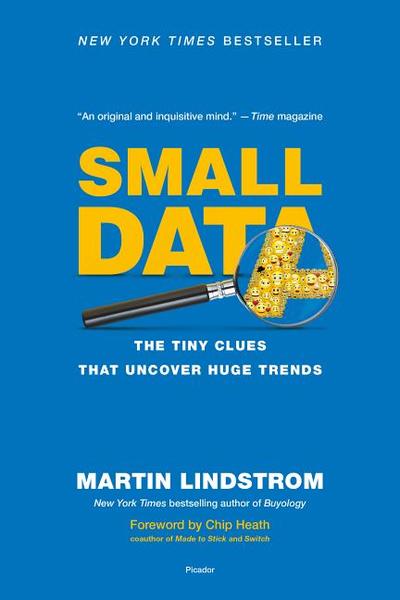 Available in: Paperback, Hardcover
Martin Lindstrom, a modern-day Sherlock Holmes, harnesses the power of small data in his quest to discover the next big thing"
Available in: Hardcover
"Foreword by Morgan Spurlock
From the bestselling author of Buyology comes a shocking insider's look at how today's global giants conspire to obscure the truth and manipulate our minds, all in service of persuading us to buy. "
Marketing visionary Martin Lindstrom has been on the front lines of the branding wars for over twenty years. Here, he turns the spotlight on his own industry, drawing on all he has witnessed behind closed doors, exposing for the first time the full extent of the psychological tricks and traps that companies devise to win our hard-earned dollars.
Picking up from where Vance Packard's bestselling classic, "The Hidden Persuaders," left off more than half-a-century ago, Lindstrom reveals:
- New findings that reveal how advertisers and marketers intentionally target children at an alarmingly young age - starting when they are still in the womb!
- Shocking results of an fMRI study which uncovered what heterosexual men "really "think about when they see sexually provocative advertising (hint: it isn't their girlfriends).
- How marketers and retailers stoke the flames of public panic and capitalize on paranoia over global contagions, extreme weather events, and food contamination scares.
- The first ever neuroscientific evidence proving how addicted we all are to our iPhones and our Blackberry's (and the shocking reality of cell phone addiction - it can be harder to shake than addictions to drugs and alcohol).
- How companies of all stripes are secretly mining our digital footprints to uncover some of the most intimate details of our private lives, then using that information to target us with ads and offers "'perfectly tailored'" to our psychological profiles.
- How certain companies, like the maker of one popular lip balm, purposely adjust their formulas in order to make their products chemically addictive.
- What a 3-month long guerilla marketing experiment, conducted specifically for this book, tells us about the most powerful hidden persuader of them all.
- And much, much more.
This searing expose introduces a new class of tricks, techniques, and seductions - the Hidden Persuaders of the 21st century- and shows why they are more insidious and pervasive than ever.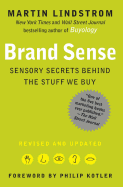 Available in: Paperback
The definitive book on sensory branding, shows how companies appeal to consumers' five senses to sell products.
Did you know that the gratifying smell that accompanies the purchase of a new automobile actually comes from a factory-installed aerosol can containing "new car" aroma? Or that Kellogg's trademarked "crunch" is generated in sound laboratories? Or that the distinctive click of a just-opened jar of Nescafe freeze-dried coffee, as well as the aroma of the crystals, has been developed in factories over the past decades? Or that many adolescents recognize a pair of Abercrombie & Fitch jeans not by their look or cut but by their fragrance?
In perhaps the most creative and authoritative book on how our senses affect our everyday purchasing decisions, global branding guru Martin Lindstrom reveals how the world's most successful companies and products integrate touch, taste, smell, sight, and sound with startling and sometimes even shocking results. In conjunction with renowned research institution Millward Brown, Lindstrom's innovative worldwide study unveils how all of us are slaves to our senses--and how, after reading this book, we'll never be able to see, hear, or touch anything from our running shoes to our own car doors the same way again.
An expert on consumer shopping behavior, Lindstrom has helped transform the face of global marketing with more than twenty years of hands-on experience. Firmly grounded in science, and disclosing the secrets of all our favorite brands, Brand Sense shows how we consumers are unwittingly seduced by touch, smell, sound, and more.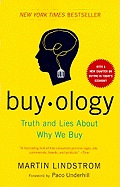 Available in: Paperback, Hardcover, Compact Disc
How much do we know about why we buy? Lindstrom presents the astonishing findings from his groundbreaking, three-year, $7 million neuromarketing study, a cutting-edge experiment that peered inside the brains of 2,000 volunteers from all around the world as they encountered various ads, logos, commercials, brands, and products.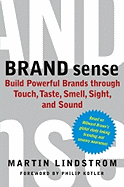 Available in: Hardcover
In perhaps the most creative and authoritative book on sensory branding ever written, international business legend Martin Lindstrom reveals what the world's most successful branding companies do differently integrating touch, taste, smell, sight, and sound with startling and measurable results.
Based on the largest study ever conducted on how our five senses affect the creation of brands, "BRAND sense" explains Martin Lindstrom's innovative six-step program for bringing brand building into the twenty-first century. The study, covering over a dozen countries worldwide, was conducted exclusively for this book by Millward Brown, one of the largest business research institutions in the world. Drawing on countless examples of both product creation and retail experience, Lindstrom shows how to establish a marketing approach that appeals to all the senses, not simply the conventional reliance on sight and sound. Research shows that a full 75 percent of our emotions are in fact generated by what we smell, and the author explains how to capitalize on that insight. Included are innovative tools for evaluating a brand's place on the sensory scale, analyzing its future sensory potential, and enhancing its appeal to reach the broadest base of consumers. Lindstrom lists the top twenty brands for the future based on their sensory awareness. (The top three? Singapore Airlines, Apple, and Disney.)
Among the book's many fascinating factual highlights are the following:
-That gratifying new-car smell that accompanies the purchase of a new car is actually a factory-installed aerosol can containing "new-car" aroma.
-Kellogg's trademarked crunchy sound and feel of eating cornflakes was created in sound labs and patented in the same way that the company owns its recipe and logo.
-Singapore Airlines has patented a scent that is part of every female flight attendant's perfume, as well as blended into the hot towels served before takeoff, and which generally permeates their entire fleet of airplanes.
-Starbucks' sensory uniqueness is far less strongly associated with the smell and taste of coffee than with the interior design of its cafes and its green and white logo.
Hailed as the "World's Brand Futurist" by the BBC, Martin Lindstrom is one of the world's top entrepreneurial visionaries, who has changed the face of global marketing with twenty years of hands-on experience as an advertising CEO and adviser to Fortune 500 companies. Firmly steeped in scientific evidence and featuring sensory secrets of the most successful brand names, "BRAND sense" reveals how to transform marketing strategies into positive business results that no brand builder can afford to ignore."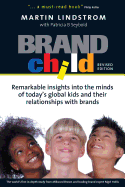 Available in: Paperback
A unique exploration of children's relationships with consumer brands, this fully revised paperback edition of the bestseller is packed with previously unpublished data, numerous case studies, and exclusive interviews with the world's brand leaders.