Shama Hyder Kabani
Books by Shama Hyder Kabani
Available in: Hardcover, eBook
Searching for clarity amidst the chaos of digital marketingplus better ROI?
Today's online ecosystem can be summed up in one word: overwhelming. With new social media platforms popping up all the time and new technologies disrupting even the most reliable marketing strategies, business and nonprofit leaders and marketers are faced with the challenge of getting ahead in an environment that makes it seem impossible to keep up.
Momentum: How to Propel Your Marketing and Transform Your Brand in the Digital Age will help you figure out what s important and what can safely be set aside. No matter your industry, if want to gain momentum for your marketing effortsalong with the just rewardsMomentum is the resource you ve been waiting for. Based on her experience as CEO of The Marketing Zen Group and her work with clients ranging from small businesses to Fortune 500 companies, Shama Hyder cuts through the complexity and explains the five essential principles required to develop a successful marketing plan that will withstand the digital world s constant changes and result in real ROI:
agility through analytics
customer focus
integration
content curation
cross-pollination
Momentum will not only demystify the marketing landscape, but also show you how to spot opportunities to grow your organization and brand more easily and with more consistent results than you may have thought possible. Whether you re a young business or an established company, Momentum will teach you how to thrive.
"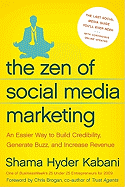 Available in: Paperback
Social media is a crucial tool for success in business today. People are already talking about your business using social media, whether you re using it or not. By becoming part of the conversation, you can start connecting directly to your customers, as well as finding new ones, easily and inexpensively spreading the word about your products or services.
But social media marketing isn t like traditional marketing-and treating it that way only leads to frustration. Let Shama Hyder Kabani, president of Web marketing firm Marketing Zen and social media expert, teach you the zen of social media marketing: how to access all the benefits of social media marketing without the stress!
With a foreword by "New York Times" bestselling author Chris Brogan, "The Zen of Social Media Marketing" outlines the most popular social media tools, from Facebook to Twitter to LinkedIn, and teaches you how to use them, step by step. She provides proven strategies for success from the businesses she works with every day, along with shortcuts and tips to help you make the most of your time and energy.
"The Zen of Social Media Marketing" is also the last social media guide you ll ever need: with the physical book you also get access to the exclusive online edition, which includes regular updates and video extras to make sure you re always on top of the latest in social media.
From "Library Journal"
Highly recommended for anybody with anything to market onlineincluding him- or herself.
"