Paul Roetzer
Books by Paul Roetzer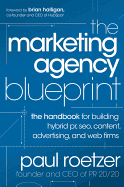 Available in: Hardcover
Build a disruptive marketing agency for the modern age
The marketing services industry is on the cusp of a truly transformational period. The old guard, rooted in tradition and resistant to change, will fall and new leaders will emerge. Hybrid marketing agencies that are more nimble, tech savvy, and collaborative will redefine the industry. Digital services will be engrained into the DNA and blended with traditional methods for integrated campaigns. The depth, versatility, and drive of their talent will be the cornerstones of organizations that pursue a higher purpose. The Marketing Agency Blueprint is a practical and candid guide that presents ten rules for building such a hybrid agency.
The new marketing agency model will create and nurture diverse recurring revenue streams through a mix of services, consulting, training, education, publishing, and software sales. It will use efficiency and productivity, not billable hours, as the essential drivers of profitability. Its value and success will be measured by outcomes, not outputs. Its strength and stability will depend on a willingness to be in a perpetual state of change, and an ability to execute and adapt faster than competitors. The Marketing Agency Blueprint demonstrates how to:
Generate more qualified leads, win clients with set pricing and service packages, and secure more long-term retainers
Develop highly efficient management systems and more effective account teams
Deliver greater results and value to clients
This is the future of the marketing services industry. A future defined and led by underdogs and innovators. You have the opportunity to be at the forefront of the transformation.
Available in: Hardcover
Discover what's possible when the art and science of marketing collide
"The Marketing Performance Blueprint" is an actionable and innovative guide to unlocking your potential as a marketer and accelerating success for your business. With an eye toward the marketing industry's rapid evolution, this book focuses on the processes, technologies, and strategies that are redefining the marketing environment. Step by step, you will learn how to build performance-driven organizations that exceed ROI expectations and outpace the competition. Companies are demanding a more technical, scientific approach to marketing, and this guide provides the key information that helps marketing professionals choose the right tools and recruit the right talent to more effectively build brand, generate leads, convert sales, and increase customer loyalty.
Marketers are facing increased pressure to connect every dollar spent to bottom-line results. As the industry advances, the tremendous gaps in talent, technology, and strategy leave many professionals underprepared and underperforming. "The Marketing Performance Blueprint" helps bridge those gaps: Align marketing talent, technology, and strategy to reach performance goals Drive digital marketing transformation within your organization Recruit, train, and retain a modern marketing team Propel growth through digital-savvy marketing agency partners Adapt more quickly to marketing technology advancements Create connected customer experiences Turn marketing data into intelligence, and intelligence into action Devise integrated marketing strategies that deliver real business results
The marketers who will redefine the industry in the coming months and years will never stop challenging conventional knowledge and solutions. Whether in terms of evolved talent, advanced technology, or more intelligent and integrated strategies, these driven professionals will be in demand as the pioneers of the new marketing era. "The Marketing Performance Blueprint" helps marketers blaze a trail of their own by providing a roadmap to success.