Jacquelyn Lynn
Books by Jacquelyn Lynn

Available in: Paperback
"As the number of single-parent families and dual-income families grows, the need for quality child care grows along with it. This revised guide presents the latest trends, resources, and tools, along with sound advice from practicing child-care business owners to get them started on the path to success"--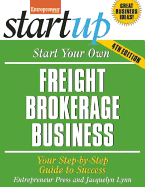 Available in: Paperback
Looking to start a business and turn a profit in a very short time?
Then becoming a freight broker is likely for you! The experts at Entrepreneur lay out a step-by-step approach to starting a freight brokerage business, showing aspiring entrepreneurs how to establish a business, define services, find reliable carriers, set rates, and more. Requiring no special training or knowledge of the shipping industry, this guide provides real life examples, sound business advice, and priceless tips on creating a successful company in this billion-dollar industry.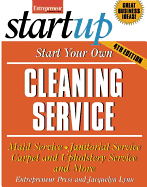 Available in: Paperback
If it can get dirty, chances are people will pay to have it cleaned. Houses, carpets, upholstery, windows . . . the list goes on and on. A vast majority of dual-income families use cleaning services, creating a huge market for cleaning service startups. Updated with the latest industry and market information, including the impact of technology and new specialty niches, this new edition provides eager entrepreneurs with all the information they need to become a squeaky-clean success. The experts at Entrepreneur share everything aspiring entrepreneurs need to know to start three of the most in-demand cleaning businesses: residential maid service, commercial janitorial service, and carpet/upholstery cleaning. Included are current statistics and trend forecasts, the ins and outs of finding customers, new ideas for hiring and training employees, up-to-date legal, tax, and insurance requirements, tips on avoiding common pitfalls, and surefire tips for growing a business. Other support includes answers to frequently asked questions and access to an appendix of additional resources and checklists to guide readers through each step of the startup process.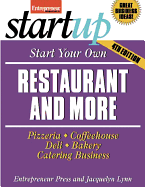 Available in: Paperback
Americans spend more than $600 billion a year eating out. Busy consumers don't have the time or inclination to cook - they want tasty, nutritious meals without dishes to wash. More and more singles, working parents and seniors are demanding greater convenience and are turning to restaurants to fill that need. There's plenty of room for more food businesses, but for a successful startup you need more than just good recipes. You also need to know about planning, capitalization, inventory control, and payroll management.
Entrepreneur has compiled everything you need including how to evaluate the competition, how to research potential customers, the basics of setting up a kitchen, how to find a great location, how to leap over regulatory hurdles in the industry, and how to find the best people to staff your business.
Among the many topics covered are:
Set-up
Staffing
Permits
Marketing
Equipment
Inventory
Legal structure
Sanitation
Financial management
Fully updated with the newest trends in menu items, decor and themes, plus recent market statistics and forecasts. Interviews with successful eatery owners show how others have made their food business dreams come true. So whether you decide to keep it simple with a sandwich-and-salad operation or make a splash with a four-star bistro, we've got the information you need to be a success.

Available in: Paperback
Looking for an easy-to-start business that can turn a profit in a very short time? As a freight broker, you can make good money, right from your home, matching carriers with shippers for a fee. It's a very easy business to start, requiring no special training or knowledge of the shipping industry needed. Let our experts help you get going! Taking you step by step, the experts at Entrepreneur show you how to start a freight brokerage business, from industry overview to day-to-day operations. Learn basic requirements for getting your business off the ground, how to create business partnerships, avenues to successfully market your services, how to prepare for and avoid common problems, and much more. Our experts provide real-life examples, sound business advice and priceless tips to put you on your way to startup success! Learn how to: Establish your business Define your services Find reliable carriers Set rates and commissions Choose the right avenues for marketing your services Hire a support staff And more Find success in freightjoin this billion-dollar industry today!"