Alex Goldfayn
Books by Alex Goldfayn
Available in: Hardcover
WALL STREET JOURNAL BESTSELLER!

IF YOU'RE IN SALES, FEAR HAS COST YOU MILLIONS OF DOLLARS, AND THIS BOOK IS FOR YOU.
Fear is the reason most salespeople don't like to pick up the phone (salespeople average just four hours per week on the phone, and our job is to talk to humans!).
Fear is the reason we don't ask for the business more, even though our customers want to buy from us.
Fear is the reason we don't offer our customers additional products and services, even though they would love to buy more from us.
This book deals with that fear.
You will learn exactly how to overcome this destructive fear in sales, and replace it with confidence, optimism, gratitude, joy, and proactive sales work. These are the powerful principles in the new field of positive psychology which are transforming how we work and succeed. Selling Boldly is the first book that leverages positive psychology to help you sell more.
You'll also learn a series of fast, simple sales-growth techniques--like how to add on to existing orders; and how to close 20% more quotes and proposals instantly; and how to properly ask for and receive referrals--that will grow your sales...dramatically and quickly.
Alex Goldfayn's clients grow their sales by 10-20% annually, every year, as long as they apply his simple approaches.
YOU ALREADY KNOW WHAT TO DO

I am not going to teach you much in this book that you don't already know.
You're a professional salesperson. You do this for a living. You know, for example, that testimonials and referrals are among the best ways we have to grow sales, right? But do you ask for them enough? Most people don't.
You know that calling a customer on the phone is more effective than emailing her, but you still often revert to email.
You know your customers buy other products and services that you can help them with, but you don't ask them about these products. You'd like to help them, and they would like more of your help -- that is why they've been with you for five or ten or twenty years -- but nevertheless we don't ask them.
There is a difference between knowing what to do, and actually doing it.
I know you know.
With Selling Boldly, we start to do what we already know. We will cover what keeps us from doing these things (fear), how to overcome it (by listening to your happy customers), and how to implement these simple but powerful sales growth techniques (by briefly planning them, also doing them).
Because sales growth comes from doing, not knowing.
Today, we start doing.
And growing.
These approaches are laid out in this book, in precise detail, for you to implement in your own work.
Alex doesn't hold anything back in this manual for selling more.
What's the secret to selling more?
There is no secret.
There is no magic bullet.
There is only the work.
There are only the mindsets, and the communications.
In Selling Boldly, Alex teaches readers how to attain these mindsets, and how to implement these communications, so that sales have no choice but to grow!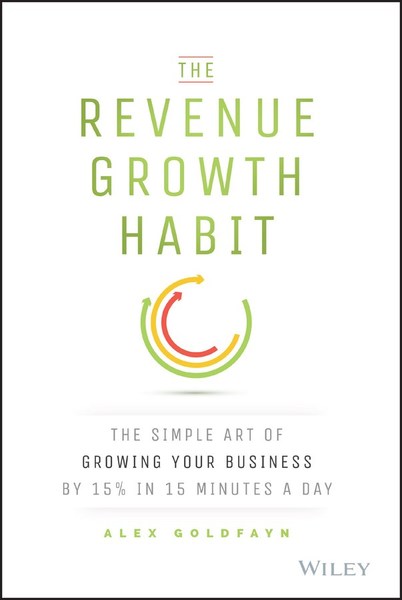 Available in: Hardcover
800-CEO-Read Sales Book Of The Year for 2015 - Forbes 15 Best Business Books of 2015 -

"The chapters, (46 of them in this 256 page book) are quick and concise, and it is easy to pick it up anywhere and find a nugget of easily actionable advice, but the kicker is that the actions he recommends are also quick and concise, so that we can accomplish them in the few bursts of spare time we all have left." - 800CEORead.com

"Follow Goldfayn's brilliant advice and you will have an endless supply of customer testimonials, spontaneous referrals, and new business, and it will compel you to buy a beautiful fountain pen and stop obsessing over social media. His advice simply works." - Inc.com

Grow your business by 15% with these proven daily growth actions
Do you have trouble finding time during your hectic day to grow your business? Is your company stalled because you are too busy reacting to customer problems? Do you lack the funds to jumpstart an effective marketing plan?
The Revenue Growth Habit gives business owners, leaders, and all customer facing staff a hands-on resource for increasing revenue that is fast, easy, and requires no financial investment. Alex Goldfayn, CEO of the Evangelist Marketing Institute, shows how to grow your organization by 15% or more in 15 minutes or less per day--without spending a penny of your money.
Forget about relying on social media. Posting on Twitter, Facebook, and LinkedIn doesn't grow revenue, especially for business-to-business companies. The Revenue Growth Habit shows how to request and collect testimonials and how to communicate these testimonials to grow your business. You will discover how to write powerful case studies, ask for (and get!) referrals, grow your lists, and send a revenue-growing newsletter. Goldfayn also includes information for teaching your customer service people how to inform your current clients about what else they can buy from you. This proven approach revolves around letting your customers tell your story. There is nothing you can say about your products and services that is more effective than what your paying customers say.
How does it work? Each day, take one quick, proactive communication action that tells someone about how they'll be improved after buying from you. Choose from the 22 actions Goldfayn details in The Revenue Growth Habit. Each technique is fast, simple, and free. It only requires your personal effort to communicate the value of your product or service to someone who can buy from you. Personal communication--the key to the 22 action steps--will make your company stand head-and-shoulders above the competition.