Laurence Haughton
Books by Laurence Haughton
Available in: Hardcover
"Reveals the unique practices of businesses that have proven records of urgency and growth. The key distinction is that they've created extraordinary cultures with a strong purpose, more trust, and relentless follow-through. These companies burn less energy, beat the competition, and have a lot of fun along the way. Jennings shows how you can implement the same strategies that have made companies such as CoBank, OReilly Auto Parts, Grainger, Henry Schein, Google, and Johnson & Johnson great"--Dust jacket flap.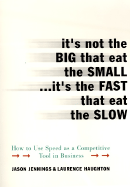 Available in: Hardcover
Why is AOL the most profitable new media company in the world, swallowing up one company after another and adding millions of new subscribers, while Prodigy and CompuServe are mere memories?
How did Hotmail vault from being a cool idea to being worth more than $400 million in the eyes of Microsoft in twenty-four months?
What transformed Charles Schwab from a company with four brokers trading stocks around a single table into the world's largest financial services firm?
Breakthrough consultants Jason Jennings and Laurence Haughton reveal how the planet's most successful companies surged to the forefront of their industries and always managed to stay one step ahead of the competition.
It's Not the Big That Eat the Small...It's the Fast That Eat the Slow contains all the secrets and tactics used by the fastest business people to achieve great success In their chosen fields -- at dizzying speed.
In this engaging and informative guide you will learn how to: think FAST by anticipating and spotting trends make FAST decisions by applying rules and reassessing strategies get to market FAST by exploiting your advantages and institutionalizing innovation stay FAST by remaining flexible and keeping close to the customer
Jennings and Haughton traveled the globe and penetrated the world's fastest companies to witness the methods used by quick, dominant leaders in business ranging from retail sales to fast food, from financial services to communications. If you want to think quicker and faster all the information you need is here. You'll find lessons from the speediest international business and companies on how to become faster than anyone else in today's ever-changing business world.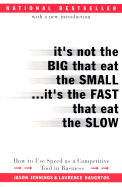 Available in: Paperback
In business speed is the game. The authors reveal the tactics used by the fastest companies in the world to think fast, decide fast, get to market fast, and maintain momentum.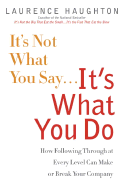 Available in: Hardcover
Good managers at every level recognize the importance of strategic planning and setting concrete goals for their employees. But even the best among them often fail to implement and support the crucial processes that turn well-laid plans into visible successes. Studies show that over the last fifty years, a whopping 83 percent of corporate slowdowns were attributable not to outside economic forces but to the lack of vigilant follow-through within the company itself.
In IT'S NOT WHAT YOU SAY...IT'S WHAT YOU DO, Laurence Haughton identifies the missteps that allow initiatives to fall through the cracks and explains how to close the gap between what a company sets out to do and what actually happens. Drawing on interviews with top-level executives from such companies as IKEA, "The Wall Street Journal, " Charles Schwab, Time Warner, Watson Wyatt, and Pella Corp., and scores of entrepreneurs covering every industry, he presents the essential strategies for ensuring the success of innovations and change, including:
- Get more "buy-in" from employees on new initiativse
- Balance control with coordination to make your team more effective
- Make sure that expectations are crystal clear
- Maintain a sense of urgency and momentum on a daily basis
Filled with real-life examples of how effective follow-through stems the waste of resources, improves productivity, and prevents costly mistakes, IT'S NOT WHAT YOU SAY...IT'S WHAT YOU DO gives managers the tools they need to eliminate self-generated failure and achieve their goals.