Ian Gee
Books by Ian Gee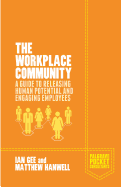 Available in: Paperback
Most organizations are laced with communities that cut through and across departments and levels of hierarchy. However they often remain small, invisible and hampered by a lack of explicit support and license. In an increasingly knowledge-based economy, what we know, our thoughts, ideas, creativity, innovation and our willingness to share and collaborate, are critical for creating value for organisations and the individuals who work for them, and organisations are seeking ways of emulating the innovation and passion found present in start-ups and with entrepreneurs.
Workplace communities provide a way to tap into this collective intelligence, engage people in a common sense of direction and provide the opportunity for unleashing 'intrepreneurship' across the organisation.
"The Workplace Community" offers a structured, practical guide for understanding and developing creative and effective communities in the workplace, from introducing employees and managers to new ways of working, to measuring effectiveness and providing corrective interventions for those who haven't achieved the desired results.