Matt Goulding
Books by Matt Goulding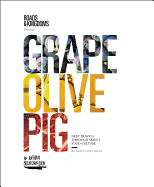 Available in: Hardcover
Winner of the 2017 IACP Award: Literary or Historical Food Writing
Gourmand World Cookbook Award Winner: Culinary Travel
Amazon Best Book of November (2016): Cookbooks, Food and Wine
Financial Times Best Books of 2017: Food and Travel
"Goulding is pioneering a new type of writing about food. His last book, Rice, Noodle, Fish, took an immersive approach to Japan that combined travel, social observation and food lore. His new book on Spain offers little cooking advice but an inquisitive foodie intellectual's experience." (Financial Times)
Crafted in the same "refreshing" (AP), "inspirational" (Publishers Weekly) and "impeccably observed" (Eater.com) style that drove Rice, Noodle, Fish, Roads & Kingdoms again presents a book that will change the way readers eat and travel abroad. The second in their series of unexpected and delightful gastro-tourism books, Grape, Olive, Pig is a deeply personal exploration of a country where eating and living are inextricably linked. As Anthony Bourdain said: "Any reasonable, sentient person who looks to Spain, comes to Spain, eats in Spain, drinks in Spain, they're gonna fall in love. Otherwise, there's something deeply wrong with you."
Matt Goulding introduces you to the sprawling culinary and geographical landscape of his adoptive home, and offers an intimate portrait of this multifaceted country, its remarkable people, and its complex history. Fall in love with Barcelona's tiny tapas bars and modernist culinary temples. Explore the movable feast of small plates and late nights in Madrid. Join the three-thousand-year-old hunt for Bluefin tuna off the coast of Cadiz, then continue your seafood journey north to meet three sisters who risk their lives foraging the gooseneck barnacle, one of Spain's most treasured ingredients. Delight in some of the world's most innovative and avant-garde edible creations in San Sebastian, and then wash them down with cider from neighboring Asturias. Sample the world's finest acorn-fed ham in Salamanca, share in the traditions of cave-dwelling shepherds in the mountains beyond Granada, and debate what constitutes truly authentic paella in Valencia.
Grape, Olive, Pig reveals hidden gems and enduring delicacies from across this extraordinary country, contextualizing each meal with the stories behind the food in a cultural narrative complemented by stunning color photography. Whether you've visited Spain or have only dreamed of bellying up to its tapas bars, Grape, Olive, Pig will wake your imagination, rouse your hunger, and capture your heart.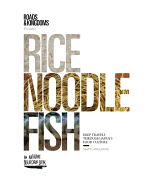 Available in: Hardcover
An unexpected and unique gastro-tourism guide to Japan from the co-founders of the popular James Beard Award-nominated website Roads & Kingdoms that includes beautifully written in-depth narrative, insider advice, and practical information, along with 170 extraordinary color photographs. Foreword by Anthony Bourdain. Part travel guide, part cultural celebration, Rice, Noodle, Fish invites readers to explore an entire country through the lens of food. In this eclectic journey through Japan, Matt Goulding, co-creator of the enormously popular Eat This, Not That! series, navigates the intersection between food, history and culture, sharing the colors, textures, tastes, and cultural DNA that this extraordinary cuisine has to offer. Written in the same evocative voice that reverberates through their popular Roads & Kingdoms website, Rice, Noodle, Fish explores Japan's most intriguing culinary disciplines in seven key regions, from the traditional kaiseki of Kyoto and sushi masters of Tokyo, to the street food of Osaka and the ramen culture of Fukuoka. You won't find hotel recommendations or bus schedules; you will find a brilliant narrative that considers the cultural and culinary flavors of each region and the stories behind the people who prepare it. This is not your mother's Fodor's. Rice, Noodle, Fish is a rare breed of inspiration and information, perfect for the intrepid and armchair traveler alike. A must-have exploration of the world's deepest and most misunderstood food culture, the end result is an exquisitely immersive culinary journey through this captivating country.