Joe Knight
Books by Joe Knight
Available in: eBook, Hardcover
While providing the foundation for an understanding of the financial side of business, this book provides managers with practical strategies for improving their companies' performance. It also contains stories of real companies. It is useful for nonfinancial managers in their everyday work.
Available in: Hardcover, eBook
"Inc." magazine calls it one of "the best, clearest guides to the numbers" on the market. Readers agree, saying it's exactly "what I need to know" and calling it a "must-read" for decision makers without expertise in finance.
Since its release in 2006, "Financial Intelligence" has become a favorite among managers who need a guided tour through the numbers--helping them to understand not only what the numbers really mean, but also "why they matter."
This new, completely updated edition brings the numbers up to date and continues to teach the basics of finance to managers who need to use financial data to drive their business. It also addresses issues that have become even more important in recent years--including questions around the financial crisis and those around broader financial and accounting literacy.
Accessible, jargon-free, and filled with entertaining stories of real companies, "Financial Intelligence" gives nonfinancial managers the confidence to understand the nuance beyond the numbers--to help bring everyday work to a new level.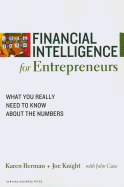 Available in: Paperback, eBook
Using the groundbreaking formula they introduced in their book Financial Intelligence: A Manager's Guide to Knowing What the Numbers Really Mean, Karen Berman and Joe Knight present the essentials of finance specifically for entrepreneurial managers.
Drawing on their work training tens of thousands of people at leading organizations worldwide, the authors provide a deep understanding of the basics of financial management and measurement, along with hands-on activities to practice what you are reading. You'll discover:
Why the assumptions behind financial data matter
- What income statements, balance sheets, and cash flow statements really reveal
- How to use ratios to assess your venture's financial health
- How to calculate return on your investments in your enterprise
- Ways to use financial information to do your own job better
- How to instill financial intelligence throughout your team
Authoritative and accessible, Financial Intelligence for Entrepreneurs empowers you to "talk numbers" confidently with colleagues, partners, and employees-- and fully understand how to use financial data to make better decisions for your business.
Available in: eBook, Hardcover
No More Headaches, Hypertension, or Heartburn
If your work involves projects, then this book is for you. It will show every company owner and project manager--at businesses large and small--how to run projects differently. You'll benefit if you've ever:
- been over budget on a project
- exceeded a timeline on a project
- worked on a project that completely stalled as you neared the finish line
- lost money on a sure-thing project and had no idea why
- noticed that scope and feature creep held you back
- watched a project take three times as long as planned
- felt too embarrassed to perform a review of your successes and failures
- wondered whether your project actually made any money
By the time you finish the book, you'll be ready to implement Project Management for Profit in your own company--and be prepared to keep your projects on track and on budget.