Jeannie Levinson
Books by Jeannie Levinson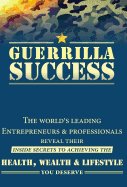 Available in: Hardcover
Jay Conrad and Jeannie Levinson, creators of the term Guerrilla Entrepreneur, describe them as men and women who think outside-the-box. In their words: He's embraced new ways of thinking, new ways of working, new ways of living. He well knows that he's left behind an age characterized by a worship of profits, a surfeit of working hours, and a neglect of family and self. (... "he" refers equally to male and female genders here.) Following their definition of the Guerrilla Entrepreneur, it is notable that the twenty-first century provides an atmosphere, culture and technology in which they can flourish. Moneychasing entrepreneurs of the past two hundred years still exist, but a generation of Guerrilla Entrepreneurs has arisen. The Levinsons further describe Guerrilla Entrepreneurs: They thrive on the non-traditional, do the unconventional if the conventional is nonsensical, and know that the real name of the game is the journey - the best of all goals. When the journey is the goal, you can begin with work that satisfies you, spend time enjoying activities other than that work you love, and gain a remarkable freedom from work-related stress. So, when you read Guerrilla Success, you can be mentored by the Celebrity Experts(r) in this book - Guerrilla Entrepreneurs in their own right.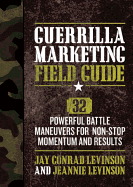 Available in: Paperback
Build marketing momentum, outsmart your competitors, and win the long-term war for mindshare and sales in 30 maneuvers--all inside, battle-tested, and ready to employ. The Father of Guerrilla Marketing, Jay Conrad Levinson, and Jeannie Levinson, President of Guerrilla Marketing International, deliver a no-nonsense, take-no-prisoners plan to producing immediate marketing results without consuming your cash or wasting your time. From delivering a powerhouse elevator pitch to mastering media, each maneuver is a marketing mission accomplished.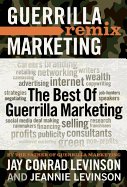 Available in: Paperback

Reconnecting with such authors as Seth Godin from Guerrilla Marketing Handbook, The Father of Guerrilla Marketing, Jay Conrad Levinson, and co-author Jeannie Levinson, present fans and new guerrillas with the first book to deliver the best of Guerrilla Marketing--a combination of the latest secrets, strategies, tactics, and tools from more than 25 top selling Guerrilla Marketing books. Learn how to reshape your approach to branding, advertising, social media, networking and more--ultimately, making more money, while spending less.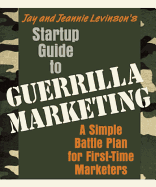 Available in: Paperback
Jay Conrad Levinson, the father of guerrilla marketing, and Jeannie Levinson have teamed up to produce a beginner-oriented guide that shows readers how to get started with guerrilla marketing.