Olivier Blanchard
Books by Olivier Blanchard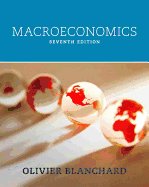 Available in: Hardcover
"For intermediate courses in economics." A Unified View of the Latest Macroeconomic Events In " Macroeconomics, " Blanchard presents a unified, global view of macroeconomics, enabling readers to see the connections between goods, financial markets, and labor markets worldwide. Organized into two parts, the text contains a core section that focuses on short-, medium-, and long-run markets and three major extensions that offer more in-depth coverage of the issues at hand. From the major economic crisis and monetary policy in the United States, to the problems of the Euro area and growth in China, the text helps readers make sense not only of current macroeconomic events but also of events that may unfold in the future. Integrated, detailed boxes in the Seventh Edition have been updated to convey the life of macroeconomics today; reinforce lessons from the models; and help readers employ and develop their analytical and evaluative skills. Also Available with MyEconLab (r) MyEconLab is an online homework, tutorial, and assessment program designed to work with this text to engage students and improve results. Within its structured environment, students practice what they learn, test their understanding, and pursue a personalized study plan that helps them better absorb course material and understand difficult concepts.
Note: You are purchasing a standalone product; MyEconLab does not come packaged with this content. Students, if interested in purchasing this title with MyEconLab, ask your instructor for the correct package ISBN and Course ID. Instructors, contact your Pearson representative for more information.
If you would like to purchase both the physical text and MyEconLab, search for: 0134472543 / 9780134472546 "Macroeconomics Plus MyEconLab with Pearson eText -- Access Card Package" Package consists of: 0133780589 / 9780133780581 " Macroeconomics" 0133860930 / 9780133860931" MyEconLab with Pearson eText -- Access Card -- for Macroeconomics"
"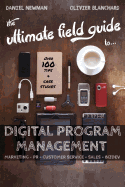 Available in: Paperback
To understand an object or concept, you must identify and value the sum of its parts. Most business managers fail to truly understand digital strategies. They focus instead on outcomes... what they want the business to get from digital efforts, then they make educated guesses about the best way to accomplish those outcomes. The problem is that they never stop to create the business basis for their digital strategy. They understand the what and how, but they don't stop long enough to understand the why. Not understanding the foundation for your digital program can cost your company time, resources, efforts, and money. But, don't worry, The Ultimate Field Guide to Digital Program Management can help. The Ultimate Field Guide to Digital Program Management helps you identify and learn the value of each component of your digital strategy. To do this, the guide takes you through 10 steps in creating an effective digital program, focused on your business's goals and objectives. The guide also gives you plenty of customizable signposts in the form of 100 tips and case studies along the way. The Ultimate Field Guide to Digital Program Management is not a book you'll read once, then put on a shelf. The guide will serve as a reference book for all of your digital efforts and direct you to online success.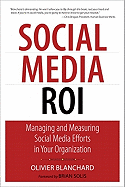 Available in: Paperback
Blanchard is demanding. He won't allow you to flip through this book, nod your head, and leave. If you re in, you re going to have to invest to get your rewards. --Chris Brogan, president of Human Business Works Social media isn't inexpensive; it's different expensive. The human effort required to do it right is significant, and not knowing precisely how social media helps your business and how to gauge that progress is a dereliction of duty. In "Social Media ROI," Blanchard provides the missing playbook for sensible, sustainable, profitable social communication. It's about time. --Jay Baer, coauthor of "The NOW Revolution: 7 Shifts to Make Your Business Faster, Smarter, and More Social" "Social Media ROI" gets down to the heart of the matter: How will social communications positively impact my organizational goals? Olivier takes us through a journey starting from the start, creating a strategy to achieve objectives, and in turn, the means to measure return on investment. If you want to get serious about online communications, you can't go wrong with "Social Media ROI." --Geoff Livingston, author of "Welcome to the Fifth Estate "and "Now Is Gone " Olivier explains the intricacies of building a social media-influenced company for every layman to understand. It is important to understand reach, attention, and influence for social media ROI. This is the book to help with that understanding. --Kyle Lacy, principal at MindFrame (yourmindframe.com) and author of "Branding Yourself" Ladies and gentlemen, the social media code has officially been cracked. In "Social Media ROI," Blanchard reveals how companies can apply the massive power of social media to achieve equally massive results. Incredibly practical, yet supremely enjoyable, this book offers a clear roadmap to growing your revenue in the dizzying world of tweets and retweets, likes and shares, connections and comments. --Sally Hogshead, author of "Fascinate: Your 7 Triggers to Persuasion and Captivation" If you know Olivier, you know he goes beyond the bullshit. He gets it. This book will put you in the mindset to successfully plan and achieve real business objectives with social media. It's a hard fact that good business decisions depend on real results. Olivier avoids the fluff with clear-cut ideas that will help you produce results. --Brandon Prebynski, social media strategist Use Social and Viral Technologies to Supercharge Your Customer Service! Use this book to bring true business discipline to your social media program and align with your organization's goals. Top branding and marketing expert Olivier Blanchard brings together new best practices for strategy, planning, execution, measurement, analysis, and optimization. You will learn how to define the financial and nonfinancial business impacts you are aiming for--and achieve them. "Social Media ROI "delivers practical solutions for everything from structuring programs to attracting followers, defining metrics to managing crises. Whether you are in a startup or a global enterprise, this book will help you gain more value from every dime you invest in social media. You ll learn how to:
Align social communications with broader business goals and functions
Plan for effective performance measurement
Establish clarity of vision, purpose, and execution
Implement guidelines and operations for effectively managing social media
Get started by listening before talking
Integrate social media into long-term marketing programs, short-term campaigns, and brand initiatives
Use social media to deliver real-time, optimized customer support
Leverage mobility and the on-the-fly social media culture
Measure FRY (Frequency, Reach, and Yield)
Includesa foreword by Brian Solis.