Steve Fisher
Books by Steve Fisher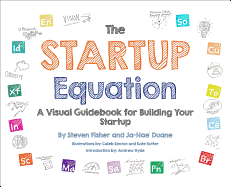 Available in: Paperback
Visualize Your Successful New Business
You have a great idea for a new business. Now what? How do you turn that great idea into a viable business? Leveraging visual tools, The Startup Equation leads you step by step through the decisions you need to make to find your perfect startup model. You'll learn things such as identifying your unique entrepreneurial type, creating a great product, building a great team, finding funding and scaling in addition to other elements essential to crafting a roadmap that fits you and your business.
Drawing from their extensive experience working with startups, entrepreneurs Steve Fisher and Ja-Naé Duane offer expert advice on dealing with the challenges and opportunities that accompany every type of new business. Using visual storytelling, they provide a much-needed blueprint to understanding the startup economy. The authors include illustrative business examples from companies such as TechStars and 500Startups, as well as interviews with over 40 entrepreneurs from across the globe.
Filled with insightful case studies, The Startup Equation is a vibrant, practical guide to creating a winning business model for any startup. By following the accessible visual roadmap within, you'll discover how to build your own successful business plan for your unique dream.
Steve Fisher is product designer, filmmaker, entrepreneur, and startup advisor. Ja-Naé Duane is an entrepreneur, researcher, startup advisor, and professor of entrepreneurship & innovation.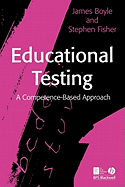 Available in: Paperback
"Educational Testing" provides support for those undertaking training in, and for training providers of, the Certificate of Competence in Educational Testing (CCET) (Level A). Developed by the British Psychological Society (BPS) the CCET aims to meet a need for standards for the use of tests in education in the UK, to encourage responsible test use by psychologists and non-psychologists alike.
Written by the designers of the certificate and endorsed by the BPS's Steering Committee on Test Standards, "Educational Testing" is the only book of its kind available: Covers the 71 elements of the CCET in detail and acts as a 'course text' for those in training Describes each core competence Provides model answers and examples Offers an indication of the range of ways in which the core competences may be assessed by the Assessor, based upon the existing BPS "Guidance for Assessors" document Appendices offer guidance on BPS Standards, a glossary of technical terms, useful web-sites and on-line resources and Test Publishers Addresses.